Illusionist artists
Portrait Giuseppe Arcimboldo (also spelled Arcimboldi; 1527 - July 11, 1593) was an Italian painter best known for creating imaginative portrait heads made entirely of such objects as fruits, vegetables, flowers, fish, and books - that is, he painted representations of these objects on the canvas arranged in such a way that the whole collection of objects formed a recognisable likeness of the portrait subject. Arcimboldo was born in Milan in 1527, the son of Biagio, a painter who did work for the office of the Fabbrica in the Duomo. Arcimboldo was commissioned to do stained glass window designs beginning in 1549, including the Stories of St. Catherine of Alexandria vitrage at the Duomo. In 1556 he worked with Giuseppe Meda on frescoes for the Cathedral of Monza.
Giuseppe Arcimboldo - The complete works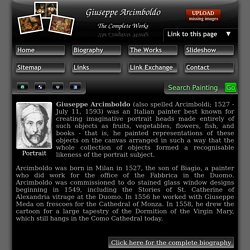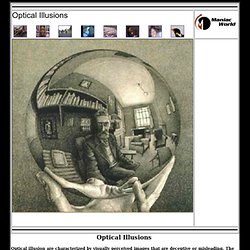 Optical Illusions
Optical illusion are characterized by visually perceived images that are deceptive or misleading. The information gathered by the eye is processed by the brain to give a percept that does not tally with a physical measurement of the stimulus source. There are two main types of illusion - physiological illusions that are the effects on the eyes and brain of excessive stimulation of a specific type - brightness, tilt, color, movement, and cognitive illusions where the eye and brain make unconscious inferences.