Hand modeling
How To Draw Hand Gestures/Poses THE EASY WAY - 3D Virtual Hand Studio
Hand Anatomy, Pictures & Diagram | Body Maps
Mankind's greatest achievements are all thanks to the capabilities of our hands: gross and fine motor movements. Gross motor movements allow us to pick up large objects, and fine motor movements allow us to pick up much smaller things. Hands are what raise buildings, paint masterpieces, compose symphonies, and hold newborn child. They are great works of art capable of creating great works of art. The hand can be considered in four segments: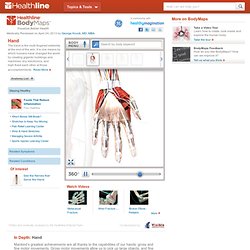 Movements of the Thumb
Movements of the Fingers, Thumb, and Wrist
Thumb 's movements
3D Interactive Hand Human Anatomy - New for 2009!
Finger and Thumb movements
ZBrush - Female Character WIP - Hand
Skeletor 9 of 16 Zbrush hand
Hand animation
Hand
ZBrush Hand -5 millions of polygons-
Hand Study 2 of 2
Hand Sculpt / Study in Zbrush
Hand Sculpt 001
Hand Sculpt 002a
Maya Modeling Basics: Polygon Hand, pt. 3
Maya Modeling Basics: Polygon Hand, pt. 1
3ds Max Tutorial Modeling Hand 3 of 3
3ds Max Tutorial Modeling Hand 3 of 3
3ds Max Tutorial Modeling Hand 2 of 3
3D Modeling a human hand. Part 1 or 3
Body Modeling Part 2B: the hand
Fast and efficient 3D modeling tutorial for the human hand
Hyper-Real Hand Modeling Part 1a
3ds Max Tutorial Modeling Hand 1of 3
Hand Modeling in Softimage part 1
Advanced Hand Rig Part 1 | Video Tutorials for Adobe Flash, Illu
Advanced Hand Rig Part 2 | Video Tutorials for Adobe Flash, Illu
Maya Modeling Basics: Polygon Hand, pt. 2
Body Modeling Part 2