future of optics science
Get flash to fully experience Pearltrees
You might soon be able to control Nikon DSLRs using only your emotions. A patent published recently shows that the company is looking into building biological detectors into its cameras, allowing the camera to automatically change settings and trigger the shutter based on things like heart rate and blood pressure. For example, at a sporting event, the sensors could be used to trigger the shutter when something significant happens and the photographer's reflexes are too slow. The camera could also choose a faster shutter speed to reduce blurring if the user is nervous. (via Egami )
The pico projectors category includes the latest in ultra-portable projectors, micro projectors, and pocket projectors for laptops and other convenient device integration. See below for a list of pico projector reviews and information pages. Pico projectors, are hand-held portable devices that use a solid state light source such as LED instead of a conventional lamp. Loosely defined as under 0.75 lbs., they are considerably smaller than similar "pocket projectors" or "mini projectors," which are therefore over 0.75-1 lbs. Thus, these pico projectors are no larger than the size of a pack of cigarettes. Since the first pico projectors emerged on the market a few years ago, each subsequent generation's performance, on average, has exceeded its predecessors.
Electrofluidic Technology
Ruud Oldenbeuving Several years ago, digital cameras started appearing in mobile phones. Nowadays they are so common that you can hardly buy a mobile phone without one. But these camera-phones are not very high quality, especially when compared to conventional digital cameras. This is partly due to the fact that most conventional digital cameras have an adjustable lens system to focus images from different distances. These lens systems are made with several lenses that have fixed focal lengths but are able to change their spacing. In a mobile phone this is undesirable, because these lenses have a diameter which is too wide for implementation in a phone.
The spectral region between 0.1 and 10 THz is known as the "Terahertz (THz) gap". Compared with other regions of the electromagnetic spectrum, it is underdeveloped and there is a lack of sources, amplificators and detectors. Le development of new devices in this domain is a major goal of modern opto-electronics. The "ultra-fast THz spectroscopy" group at LPA-ENS has recently developed a THz pulse amplificator based on novel scheme of "gain-switching" in quantum cascade lasers. Ultra-fast THz spectroscopy is a recent technique and is now used for a number of applications ranging from studies of semiconductor nanostructures to bio-systems, where both the amplitude and phase of the THz wave can reveal interesting information. In these experiments, ultra-fast (sub-ps) THz pulses are generated from near-infrared pulses, by optical rectification or using photoconductive antennas.
14 March 2008, SPIE Newsroom. DOI: 10.1117/2.2200803.0001 Almost as soon as banks and governments printed paper money, people tried to counterfeit it, and it didn't take long for those issuing currency to seek ways to distinguish it from imitation. Because money needs to be quickly and easily authenticated wherever it is exchanged, real money needs to be at least partly distinguishable by the human eye. As a result, most security methods for paper currency are optical. U.S.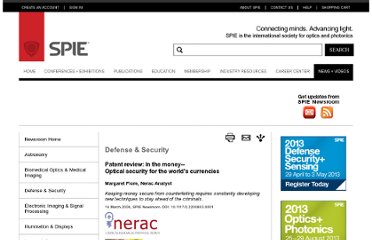 The goal of this NSF-supported project is to create a new platform with levels of separations multidimensionality and programmability that have not existed before. The rationale is that electrofluidic carbon nanofibers can implement reconfigurable multiphase fluid pumping, and can provide separation based on size, mass, surface energy, surface chemistry, ionic charge, and 2D location. This is a collaborative project with the University of Tennessee http://web.utk.edu/~prack/ and Oakridge National Laboratory Molecular-Scale Engineering and Nanoscale Technologies (MENT) group http://www.ornl.gov/sci/ment/.