FREE ! MakeHuman project Open Source app
Aqsis Renderer : Freedom to Dream. Download - MakeHuman Docs. What's an "alpha"?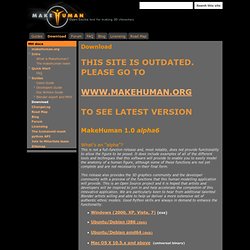 This is not a full-function release and, most notably, does not provide functionality to allow the figure to be posed. It does include examples of all of the different tools and techniques that this software will provide to enable you to easily model the anatomy of a human figure, although some of these functions are not yet complete and are not necessarily in their final form. This release also provides the 3D graphics community and the developer community with a preview of the functions that this human modelling application will provide. This is an Open Source project and it is hoped that artists and developers will be inspired to join in and help accelerate the completion of this innovative application. Www.makehuman.org • Index page. Make Human. Quick Start - MakeHuman Docs. Pose Controls This Alpha 4 Release does not provide any pose controls.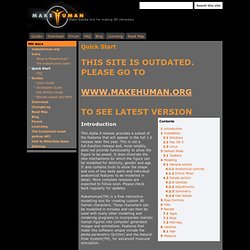 The default position has the human figure standing facing straight towards the camera with arms outstretched. Users Guide - MakeHuman Docs. Introduction This Alpha 4 release is intended to provide users with a view of a subset of the features that will appear in the full 1.0 release later this year.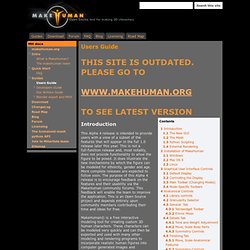 This is not a full-function release and, most notably, does not provide functionality to allow the figure to be posed. It does illustrate the new mechanisms by which the figure can be modeled for ethnicity, gender and age. More complete releases are expected to follow soon. MakeHuman. What is MakeHuman? - MakeHuman Docs. MakeHuman(TM) is an open source (so it's completely free), innovative and professional software for the modelling of 3-Dimensional humanoid characters.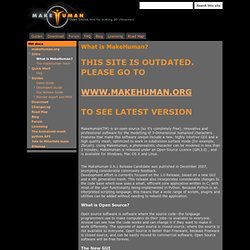 Features that make this software unique include a new, highly intuitive GUI and a high quality mesh, optimized to work in subdivision surface mode (for example, Zbrush). Using MakeHuman, a photorealistic character can be modeled in less than 2 minutes; MakeHuman is released under an Open Source Licence (GPL3.0) , and is available for Windows, Mac OS X and Linux. The MakeHuman 0.9.1 Release Candidate was published in December 2007, prompting considerable community feedback. Development effort is currently focused on the 1.0 Release, based on a new GUI and a 4th generation mesh. The humanoid mesh - MakeHuman Docs. [Document is Work In Progress] The principal aim of the MakeHuman project is to develop an Open Source application capable of realistically modelling a very wide variety of human anatomical forms in the full range of natural human poses from a single, universal mesh.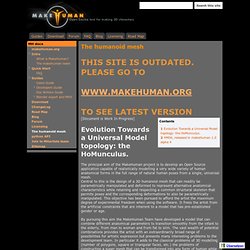 Central to this is the design of a 3D humanoid mesh that can readily be parametrically manipulated and deformed to represent alternative anatomical characteristics while retaining and respecting a common structural skeleton that permits poses and the corresponding deformations to also be parametrically manipulated. This objective has been pursued to afford the artist the maximum degree of experimental freedom when using the software. It frees the artist from the artificial constraints that are inherent to a model that has pre-established gender or age.
---