Free books
Free Classic AudioBooks. Digital narration for the 21st Century. FullBooks.com - Thousands of Full-Text Free Books. Project Gutenberg - free ebooks online download for iPad, Kindle, Nook, Android, iPhone, iPod Touch, Sony Reader. Internet Archive: Digital Library of Free Books, Movies, Music & Wayback Machine.
Free Ebooks. 50 Cool Search Engines for Serious Readers | Online Colleges. The Internet has proven itself as a valuable resource for all types of readers, from collectors of rare books to tech-minded readers who shop, network and download books online.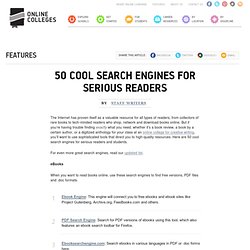 But if you're having trouble finding exactly what you need, whether it's a book review, a book by a certain author, or a digitized anthology for your class at an online college for creative writing, you'll want to use sophisticated tools that direct you to high-quality resources. Here are 50 cool search engines for serious readers and students. For even more great search engines, read our updated list. eBooks. ChestofBooks.com: Read Books Online for Free. AudioBooksForFree.com.
---