Figurative artists
Lori Earley. :: Lauren Mills Art :: Sculpture (Portraiture & Figurative) "Lady from Botswana", clay Bronze Sculpture Available through: Marshall LeKae Gallery Portraiture: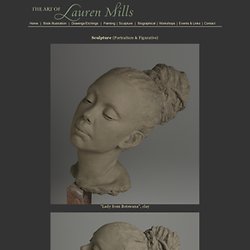 Unio Mystica. Unio Mystica is part of Damian Michaels' Art Visionary Collection in Australia.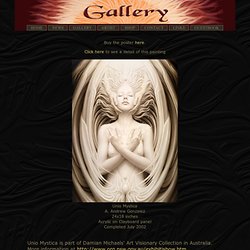 More information at Catalogue of the "Fantastic and Visionary Art" tour: Foreword to exhibition tour catalogue by Alan Sisley: Orange Regional Gallery is delighted to be able to present the exhibition Fantastic and Visionary Art for tour. This exhibition contains work from sixty different artists, from seventeen countries. Most have not been shown in Australia before, and it is certainly the first time that so many contemporary makers of so called Fantastic and Visionary art have been shown together in this country. Ten If by Sea. Ron Mueck-(The photo at 1:11 is not ron mueck piece - it is by Patricia Piccinini)
Ron Mueck The most realistic sculptures Part 3/3. Welcome to Mark Newman Sculpture Online. MarkNewman on deviantART. Amazing sculptures. Sculptor Susan Bahary, Fine Art Acrylic and Bronze Horse Art. 100 Impressive Artworks of Robots | 3DExport's Blog - Buy 3D Models, Sell 3D Models easy. 100 Impressive Artworks of Robots Details Techniques: Artworks, Impressive, Robots Ads: Hello everyone.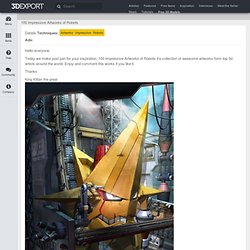 Today we make post just for your inspiration. 100 Impressive Artworks of Robots it's collection of awesome artworks form top 3d artists around the world. Luxe et vanités. Stephane Halleux - Sculpteur. Debora. Cloth figure artist LISA LICHTENFELS. Hyper Realist Sculptor – Carole Feuerman. Carole Feuerman is widely acknowledged as one of the world's most prominent hyper-realist sculptors.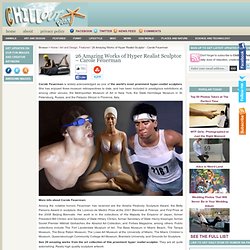 She has enjoyed three museum retrospectives to date, and has been included in prestigious exhibitions at, among other venues, the Metropolitan Museum of Art in New York, the State Hermitage Museum in St. Petersburg, Russia, and the Palazzo Strozzi in Florence, Italy. More info about Carole Feuerman: Among the notable honors Feuerman has received are the Amelia Peabody Sculpture Award, the Betty Parsons Award in sculpture, the Lorenzo de Medici Prize at the 2001 Biennale di Firenze, and First Prize at the 2008 Beijing Biennale.
---