Fiber Optic lighting
Laluna Fiber Optic Lamp Looks Like Glowing Spaghetti. June 29th, 2008 by Paul Strauss How'd you like one of these organic glowing orbs hanging from your ceiling?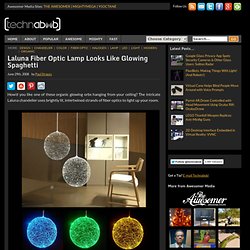 The intricate Laluna chandelier uses brightly lit, intertwined strands of fiber optics to light up your room. Fiber Chandelier (HL-1029) Fiber Optic Light. Fiber optic bed cover lights up your bedroom – New Tech Gadgets & Electronic Devices. Kurage 3 (Jellyfish): Fiber Optic Lighting HOLY WOW =O « PixelBits. Made by 1.5mm Fiber Optic cables, and by bending the optical fiber, the area is illuminated outside of the immediate area of the light, creating a very soft light.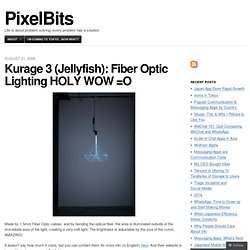 The brightness is adjustable by the size of the curve. AMAZING! It doesn't say how much it costs, but you can contact them for more info (in English) here. And their website is here. Glofab Reinvents Lighting as We Know It. When I think of fiber optic lighting, all that comes to mind are those awful 1970s starburst lamps.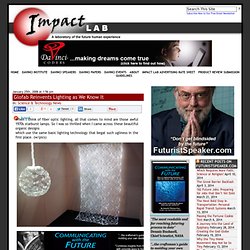 So I was so thrilled when I came across these beautiful organic designs which use the same basic lighting technology that begat such ugliness in the first place. (w/pics) Created by Torbjörn Lundell of Sweden's GloFab, these unusual fixtures radiate an ethereal glow as light courses through their fibrous veins. I like to think of GloFab like an illuminated textile.
---