Energy
Hot springs microbe yields record-breaking, heat-tolerant enzyme
Public release date: 5-Jul-2011 [ Print | E-mail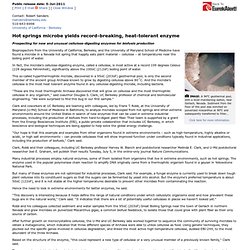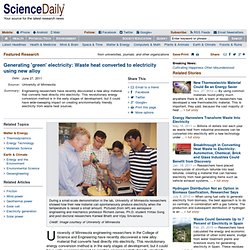 Generating 'green' electricity: Waste heat converted to electricity using new alloy
June 27, 2011 — University of Minnesota engineering researchers in the College of Science and Engineering have recently discovered a new alloy material that converts heat directly into electricity. This revolutionary energy conversion method is in the early stages of development, but it could have wide-sweeping impact on creating environmentally friendly electricity from waste heat sources.
Public release date: 29-Mar-2011 [ Print | E-mail Share ] [ Close Window ]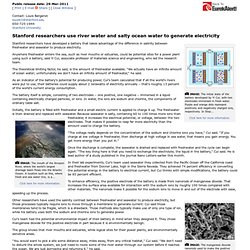 Stanford researchers use river water and salty ocean water to generate electricity
Technology
High Efficiency Design to Produce 200% of the Power Output of Conventional Solar Cells Revolutionary Design Our revolutionary 3-dimensional silicon solar cell is designed to maximize the conversion of sunlight into electricity.