Cymatics vibe patterns
When a droplet falls into shallow water, it creates a crown or "coronet". This droplet simulation was calculated using Smoothed Particle Hydrodynamics (SPH) . SPH is one of the most impressive-looking fluid simulation techniques. Droplet Links Liquid Sculpture - beautiful high speed photographs, by Martin Waugh, see also this video Water Figures - beautiful high-speed camera splashes by Fotoopa Other Links Fluids v.1 - fast SPH C++ program by Rama Hoetzlein Physics Demos - fluid Java applets by Grant Kot Fluid Animations - amazing animations by Ron Fedkiw, with Eran Guendelman , Andrew Selle , Frank Losasso , et al.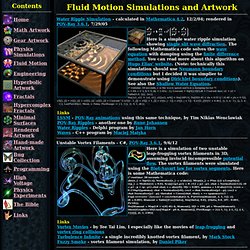 Sand Pendulum
Phase of Sound #09 "Interference Wave"
Sound and Salt
resonance
Oscillon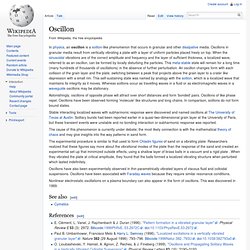 In physics , an oscillon is a soliton -like phenomenon that occurs in granular and other dissipative media. Oscillons in granular media result from vertically vibrating a plate with a layer of uniform particles placed freely on top. When the sinusoidal vibrations are of the correct amplitude and frequency and the layer of sufficient thickness, a localized wave, referred to as an oscillon, can be formed by locally disturbing the particles. This meta-stable state will remain for a long time (many hundreds of thousands of oscillations) in the absence of further perturbation. An oscillon changes form with each collision of the grain layer and the plate, switching between a peak that projects above the grain layer to a crater like depression with a small rim. This self-sustaining state was named by analogy with the soliton , which is a localized wave that maintains its integrity as it moves.
WSM = Wave Structure of Matter
Cymatics - Bringing Matter To Life With Sound (Part 3 of 3)
Evan Grant: Making sound visible through cymatics
Hidden World: Cymatics
Cymatics - Bringing Matter To Life With Sound (Part 2 of 3)
Beautiful Cymatics & Wave Phenomena
Cymatacon 1