Content installation Poser
Beginners Poser 7 Tutorial - Adding New Content‬‏
Runtime DNA Inc. :: Checkout
Runtime DNA Inc. :: StandAlones :: Scripts :: Advanced Figure Manager
ShaderWorks Library Manager is an extremely powerfull library manager for Poser 8 and Poser Pro 2010. This new version (March 16, 2010) introduces new features (browsing files on your hard drive) and resolves bugs. Some of the new features can be found in the Service Release 1 teaser .
Runtime DNA Inc. :: StandAlones :: Scripts :: ShaderWorks Library Manager
XL - eXtended Library for Poser 8 / Pro 2010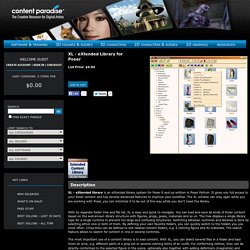 XL - eXtended library is an eXtended library system for Poser 8 and up written in Poser Python.
XA - eXtended Access for Poser 8 / Pro 2010
Dimension 3D
Dimension 3D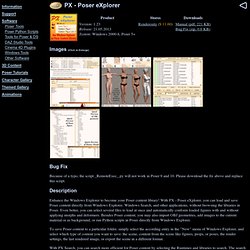 Images (Click to Enlarge)
How should I install DAZ 3D content into Poser 7? : DAZ3D Help Center
3D Content Installer ahudson
Poser 8 and Poser 2010 content library uses metadata | Smith Micro Blog
Woooohooo!!! It's an easy day for me. I'm turning it over to Steve Cooper, Poser product manager, for a detailed explanation of metadata in the Poser library.