Bikes
Tilting bike uses Google Maps to simulate riding in different parts of the world. The Le Tour de France Indoor Cycle replicates riding on routes selected via Google Maps, simulating the area's incline or decline by tilting the riding platform (Photo: Pro-Form) Image Gallery (4 images) Valuable a conditioning tool as stationary bikes are, any avid cyclist will tell you that they're nowhere near as good as being out on the open road.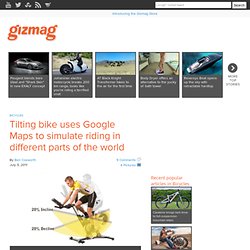 One of the differences between real cycling and indoor training is the fact that when riders are on the road, the topography of the area determines the pedaling effort required. EGO-Kits give downhill mountain bikes a boost. The EGO-Kit is an electric motor that can be added to downhill mountain bikes for powering them up to the tops of mountains (Photo: EGO-Kits) Image Gallery (4 images) While electric commuting bikes are currently experiencing a surge in popularity, electric mountain bikes such as the Conway E-Rider and the KTM eGnition are also showing up on tradeshow floors with increasing frequency.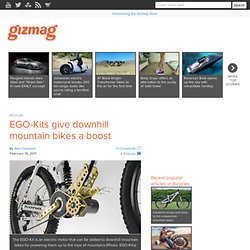 Most of these are designed as cross-country and/or trail bikes, with the idea that the motor can extend their range above the reaches of pure human power – of course, they might also appeal to couch potatoes who want all the fun of mountain biking, with a minimum of the exercise. The EGO-Kit, however, is an electric motor that can be added onto an existing downhill mountain bike, with the specific purpose of replacing a chair lift for getting bike and rider to the top of the mountain. The high-torque brushless motor puts out 1200W of nominal power, and 2400W maximum. Buy your own Tron Lightcycle: US$35,000. The lightcycle scene was probably the most memorable part of an absolutely jaw-dropping movie when Tron was released back in 1982.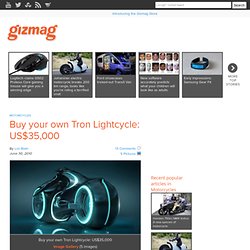 One of the first films ever to use the kinds of computer-generated special effects that later become commonplace, it was a glimpse into a whole new world that left an indelible impression on most that saw it. Now, as Disney prepares to release Tron Legacy, a sequel some 28 years after the original, the lightcycles are back and looking meaner than ever. Built by the same guys that did the memorable Batpod replica, the new lightcycles feature massive dual hubless wheels, carbon fiber/fiberglass bodies and all the lashings of neon that you'd expect. And there's going to be five running models built - all of which are now up for sale on eBay. Check it out! All-electric Tron Lightcycle hits the streets. All-Electric Lightcycle (Screenshot from Parker Brothers video) Image Gallery (6 images) Practicality tends to take a back seat when you combine sci-fi cult status with custom chopper building - and there's no room for a pillion passenger on the Lightcycle.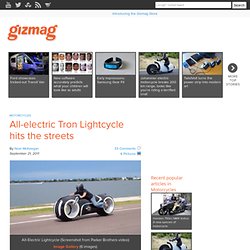 We first spied Parker Brothers Choppers Lightcycle project last year when it surfaced in gas-powered form, now the company has released video of a fully-electric version of the neon-packing two-wheeler in action. The electric motor may be quieter, but this one's still guaranteed to turn heads. View all. Yamaha shows retro lightweight 125cc motorcycle that gets 220 mpg. Yamaha's press conference at the Tokyo Motor Show today was a genuine sign of the times.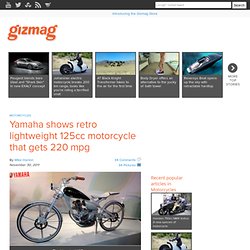 Four brand new world premiers were shown. The largest internal combustion engine amongst them was a 250cc model with fat tires designed to go anywhere - the SUV of motorcycles was the claim. View all. Lit Motors' C-1 electric motorcycle will stand up for itself. As any avid biker will tell you, motorcycles have a lot of advantages over cars - they use less fuel, accelerate faster, are more maneuverable, can be parked in more places, and don't incorporate the weight of extra seating for passengers who are non-existent on solo commutes.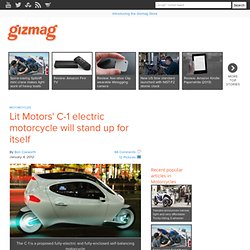 As many other people will tell you, however, motorcycles also leave their occupants open to the rain and cold, and can potentially tip over and scatter those occupants across the road. That's where Lit Motors' C-1 comes into the picture. It's a proposed fully-enclosed two-passenger electric motorbike that uses an electronically-controlled gyroscopic stabilizing system to stay upright when stopped, or even when struck from the side in an accident.
9 Best New Electric Scooters on the Market. Electric vehicles have come a long way in the last few years, steadily gaining acceptance as a practical and sustainable form of transportation.
This is especially true in cities, where most trips are short and space is at a premium. That's where the electric scooter comes in: Small, quick and zero-emissions, these vehicles are making a real dent in the automotive market. Abnormal Cycles. Motornya+Lelaki.jpg. Motornya+Lelaki1.jpg. So-unique Helmet Designs. Disclaimer PictoVista acknowledges that though we try to report accurately, we cannot verify the absolute facts of everything posted.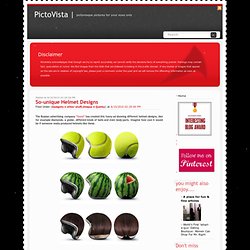 Postings may contain fact, speculation or rumor. Concept Bikes part 1. Bi pulsejet trike. Dodge Tomahawk vs Dodge Viper. Dodge Tomahawk. T-Rex: the perfect donut. Dodge Tomahawk. Concept Bikes Extravaganza Slideshow! Kawasaki 48 Cylinder Runs! Dodge Tomahawk. 31 Examples of Coolest and odd Bicycle Design | Art Photography. Rondinaud deisgn three wheels motorcycle concept video 1. McLean V-8 Monocycle (Crash 2:55) Unique vehicle made of furniture parts. The 2011 McLean Drag Wheel. Motor Wheel 02 Burning Man. 1st Hyperbike. NEW MINIMOTO - STREET DRAG RACER. 18 Futuristic Motorcycle Concepts. 18 Futuristic Motorcycle Concepts Man it would be so amazing if all the concepts we see come to life!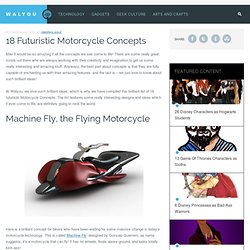 There are some really great minds out there who are always working with their creativity and imagination to get us some really interesting and amazing stuff. McLean All-Body Workout (ABW) Trike. Candy Bicycles | Jorymon Techblog. Cool Nike Sneakers Design April 25, 2012 - 11:37 pm Tags: chucks, Design, Illustrators, kicks, nike, slip-ons, sneakers, sneakers design Posted in Design, DIY | No comments They will make you wanna bust out your tools and DIY your own sneaker design too.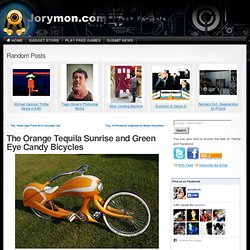 SpokePOV: LED Bike Wheel Images. Spoke POV is an easy-to-make electronic kit toy that turns your bicycle wheel into a customized display! The project includes a free schematic design, open source software for uploading and editing stored bitmap images, and a high-quality kit with all the parts necessary to build your own. Tired: A red blinker on your seatpost Wired: Programmable full-wheel images in any color Specifications and Features: Can be used with road, mountain or BMX wheels!
30 LEDs on each side (22 for BMX) x 256 radial pixels Runs on 2-3 AA batteries for 10 hours or more, assuming 3000mAh alkalines and 50% image coverage. Electric Bikes, Scooters and other Light Electric Vehicles (LEV)
---