ART Audio Visual
nativetreesociety.org/fieldtr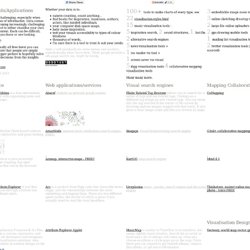 Visualisation Tools/Applications Visualising data can be challenging, especially when dealing with huge volumes of information. Data comes in all forms and it is becoming increasingly challenging to find the right visual tool to either visualise your own data or to find related content.
Arts Collaboratory - Programme for artist-led initiatives
Today we are pleased to provide our readers with a yet another round-up of high-quality icon sets . Below, you will find free sets covering a wide range of subjects, including Easter and food sections. Please read the license agreements carefully before using the icons, and feel free to follow the links: they will certainly come in handy when you're designing a new website or looking for inspiration. Please notice that we do know that round-ups of icon sets are getting old; but because these round-ups are always useful and handy, we are keeping doing them. Most of the icons featured below are new, some are a bit older.