ART Audio Visual
nativetreesociety.org/fieldtr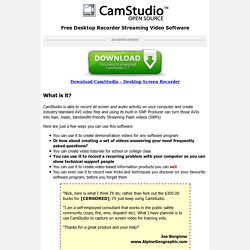 Free Streaming Video Software What is it? CamStudio is able to record all screen and audio activity on your computer and create industry-standard AVI video files and using its built-in SWF Producer can turn those AVIs into lean, mean, bandwidth-friendly Streaming Flash videos (SWFs) Here are just a few ways you can use this software: You can use it to create demonstration videos for any software programOr how about creating a set of videos answering your most frequently asked questions?
Arts Collaboratory - Programme for artist-led initiatives
Advertisement Today we are pleased to provide our readers with a yet another round-up of high-quality icon sets. Below, you will find free sets covering a wide range of subjects, including Easter and food sections. Please read the license agreements carefully before using the icons, and feel free to follow the links: they will certainly come in handy when you're designing a new website or looking for inspiration. Please notice that we do know that round-ups of icon sets are getting old; but because these round-ups are always useful and handy, we are keeping doing them.