Air Craft
Phoenix-Fly - The Need 4 Speed - Mountain Trails. China: Awesome gentleman builds homemade flying contraption powered by eight motorcycle engines. Local farmer Shu Mansheng starts the engines of his self-designed and homemade flying device before a test flight in front of his house in Dashu village on the outskirts of Wuhan, Hubei province September 21, 2011.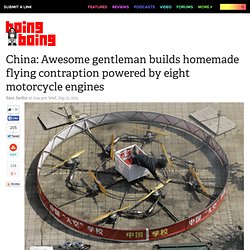 The round steel flying device, which cost more than 20,000 yuan ($3,135), is the fifth model made by Shu, a junior middle school graduate. It measures around 5.5 meters (18 feet) in diameter, and is powered by eight motorcycle engines. Shu managed to hover for 10 seconds at about 1 metre (3.3 feet) above ground during a recent test flight.
(REUTERS/Stringer) Above, in August, he set up a propeller on the motorcycle engine of his self-designed and made flying device before the first test flight in front of his house. Very, very, very fast Turbine powered RC Jet. Test of hypersonic aircraft fails over Pacific Ocean. A test flight of an experimental aircraft capable of speeding through air at 20 times the speed of sound ended prematurely Thursday morning when the arrowhead-shaped plane failed and stopped sending back real-time data to engineers and scientists who were moderating the mission.
In the test flight, the aircraft, known as the Falcon Hypersonic Technology Vehicle 2, was launched at 7:45 a.m. from Vandenberg Air Force Base, located northwest of Santa Barbara, into the upper reaches of Earth's atmosphere aboard an eight-story Minotaur IV rocket, made by Orbital Sciences Corp. After reaching an undisclosed sub-orbital altitude, the aircraft jettisoned from its protective cover atop the rocket, then nose-dived back toward Earth, leveled out and was supposed to glide above the Pacific at 20 times the speed of sound, or Mach 20.
The plan was for the Falcon to speed westward for 30 minutes before plunging into the ocean near Kwajalein Atoll, about 4,000 miles from Vandenberg. Aeroplane created using a 3D printer in world first: Scientists create aircraft with 100mph max speed. By Daily Mail Reporter Updated: 07:34 GMT, 8 August 2011 This plane is the first in the world to be created using the groundbreaking new technology of '3D printing'.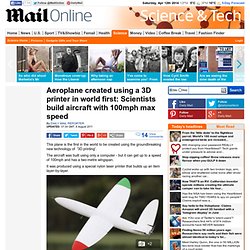 The aircraft was built using only a computer - but it can get up to a speed of 100mph and has a two-metre wingspan. Maverick Flying Car at Oshkosh. New rocketplane 'could fly Paris-Tokyo in 2.5 hours' A computer-generated image from the European defense group EADS shows the so-called "Zero Emission Hypersonic Transportation" (Zehst) rocket.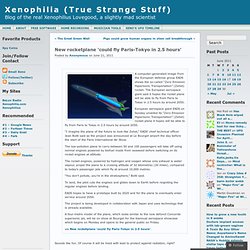 The European aerospace giant said it hopes the rocket plane will be able to fly from Paris to Tokyo in 2.5 hours by around 2050.European aerospace giant EADS on Sunday unveiled its "Zero Emission Hypersonic Transportation" (Zehst) rocket plane it hopes will be able to fly from Paris to Tokyo in 2.5 hours by around 2050. Wingless_0.jpg (JPEG Image, 1836x2812 pixels) - Scaled (29%) How to Do Short Take Off and Landing with Single Engine Airplane! I heard that many places in Alaska, there are no roads and the only way you can get home is via a small single-engine airplane.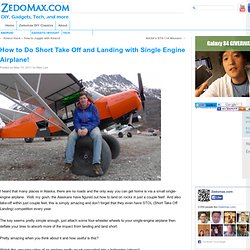 Well, my gosh, the Alaskans have figured out how to land on rocks in just a couple feet! And also take-off within just couple feet, this is simply amazing and don't forget that they even have STOL (Short Take Off Landing) competition every year. The key seems pretty simple enough, just attach some four-wheeler wheels to your single-engine airplane then deflate your tires to absorb more of the impact from landing and land short. PHOTOS: "Hitler's Stealth Fighter" Reborn. Swiss "Jetman" flies over Grand Canyon. SUPER ADVANCED RC JET (MUST SEE!!!)
Worlds Largest RC Airplane. Huge RC jet, REAL TURBINE ENGINES! 2009/8/29肥料散布ラジコンヘリ実演. JetLev-Flyer Water Jet Pack Facts. Doug Bryant's Mosquito Air. Ekranoplane.
---