Adobe PhotoShop
Create Andy Warhol Style Pop Art - Lady Ga Ga [Photoshop CS5] Create a Burnt Edge Effect on Your Images With Photoshop CS5. A burnt edge is a favorite effect for many people, especially those that are interested in vintage, rustic or western designs.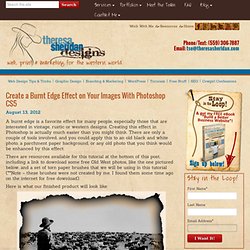 Creating this effect in Photoshop is actually much easier than you might think. There are only a couple of tools involved, and you could apply this to an old black and white photo, a parchment paper background, or any old photo that you think would be enhanced by this effect.
Scenes. Advanced PS. Resolution ,pixels ,dpi info. Stephanie Valentin Art Tutorials. Inspiration. Photomanipulation. Art Class group. Anatomy. Actions , functions , filters. Color Theory and use.
HDR , Color enhancements
Reflections. Shadow and Light. Color Pickers. Color Mixing. Selection tools. About Brushes. Cloning Healing patching removing brushes and effects. Photo Restoration. Blending. Textures. Normalmaps. Masking. Cutting , filling , removing.
Workflow tips. Stuff 4 Photoshop. Tablet and pen tools help. Keyboard Shortcuts. Layers. CS5. CS6. Drawing.
Perspective Sketching. Shape and form.
Tiling patterns
Compostion. Transform change shape. Type Text. Cropping.
---