3DS Max
‪3ds max Rigging tutorial‬‏
Maya Character Modeling: Female Torso pt. 2
Maya Character Modeling: Female Torso pt. 5
Maya Character Modeling: Female Torso pt. 7
Thinking of producing a cool 3D model or animation? It could be a simple task if you apply the right 3D animation rendering and modeling software and practice the right tutorial. Speaking of 3D software, 3DS Max is one of the comprehensive 3D modeling, rendering, and 3D animation software which used by most of the game developers, visual effects artists and design visualization specialists. There are countless ways that 3DS Max can be used and fortunately there is plenty of useful 3DS Max tutorials out there to enable artists and designers to more quickly ramp up for production.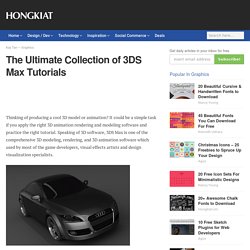 RigTest
Wrapit 3ds Max retopology tool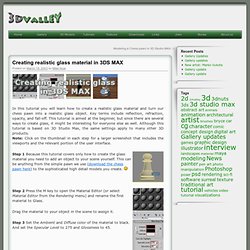 In this tutorial you will learn how to create a realistic glass material and turn our chess pawn into a realistic glass object. Key terms include reflection, refraction, opacity, and fall-off. This tutorial is aimed at the beginner, but since there are several ways to create glass, it might be interesting for everyone else as well. Although this tutorial is based on 3D Studio Max, the same settings apply to many other 3D products. Note: Click on the thumbnail in each step for a larger screenshot that includes the viewports and the relevant portion of the user interface.
Create realistic glass material in 3DS MAX | 3D Valley
FaceGen and 3ds Max
Maya Tutorial - Animation
Maya Tutorials - Creating Circular Cut-outs
3D Max tutorial-Make a biped walk and react with a cape
Maya Tutorial - Redrawing Topology
3D MAX POLYGON MODELLEME
3DS Max - Lesson 2 - Biped Animation
Hair, fur, and cloth in 3ds Max 9
3dmax tutorial Chapter4 Viewports and
Modeling a Character in 3dsMAX
Tutorials | Modeling a Character in 3ds Max
3dmax tutorial Chapter 03 Sub division surface
3dmax tutorial Chapter 02 Edit Mesh
3dmax tutorial Chapter 01 Polygonal Modeling