3D modeling Tutorials tools
This video is currently unavailable. Sorry, this video is not available on this device. Video player is too small. Normal quality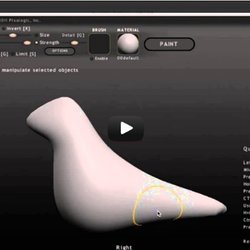 Sculptris Essential Training
Tutorials
2D to 3D extraction software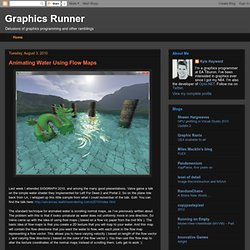 Last week I attended SIGGRAPH 2010, and among the many good presentations, Valve game a talk on the simple water shader they implemented for Left For Dead 2 and Portal 2. So on the plane ride back from LA, I whipped up this little sample from what I could remember of the talk. Edit: You can find the talk here: http://advances.realtimerendering.com/s2010/index.html The standard technique for animated water is scrolling normal maps, as I've previously written about. The problem with this is that it looks unnatural as water does not uniformly move in one direction. So Valve came up with the idea of using flow maps ( based on a flow viz paper from the mid 90s ).
Animating Water Using Flow Maps
With the variable plethora of different applications, scripts, tools, plugins, platforms, engines, and packages available on the market today, how is an aspiring 3D artist (or a seasoned professional for that matter) to know which package he or she ought to be using? In this article I have attempted to do some of the heavy lifting for you, and narrowed this list down to what is, in my opinion, the top 15 applications out there for 3D artists right now. Enjoy! 3ds MaxOne of most widely used 3D applications by professionals, and students alike, is "Autodesk 3ds Max". Autodesk actually has a ton of programs for 3D modeling, animation, and special effects, but 3ds Max is optimal for someone who is learning 3D, and wants to take it into a profession. The latest release of the software platform is the 2010 version, which has over 350 new features, (including a render-quality viewport display, and the new "Graphite Modeling Tools").
Top 15 Applications for 3D Artists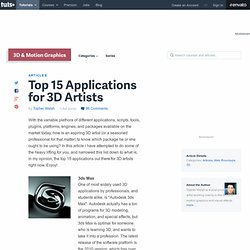 free great 3d drawing program
ZBRUSH 3D modeling software Tuts
Maya, 3dsmax, XSI, Zbrush, Mudbox, Cinema 4D, Motion Builder, Softimage, Alias, Renderman, and free 3d resource tips, tricks, tutorials, Mel Scripts, plugins, shaders, tools Б─⌠ CGHUB.com Scripts
Thanks for 2012! Here Is One Thing I've Learned About Improving Your Artwork
There is a very simple rule that applies in every image and it can make your subjects really appear like they were originally in the shot. [tweetmeme]In movies the best special effects are the ones you can't detect. In photomontage applies the same.
How to correctly position subjects in an image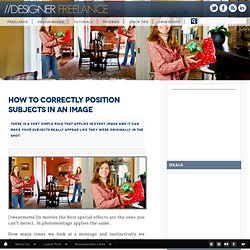 General tips to 3D modeling
CrazyBump Displacement map generator
Creature Creator instant modeling
Auto Mesh Fit Surface
UVMapper - UV Mapping Software
Make Human Project software