3D concepts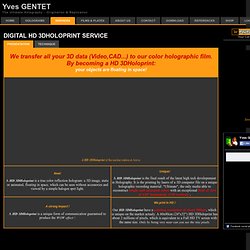 DIGITAL HD 3DHOLOPRINT SERVICE
We generate from your datas the 3DHoloprint file: Bit by bit, we calculate all the information needed to generate the 3D image, from your video/Photos or rendered images with 20 computers working together. A Beowulf-class cluster computes millions of points of view needed for a single 3DHoloprint. A Holoprinter prints the hologram: A Holoprinter is a device able to convert digital data into a hologram. This state of the art is fitted with three lasers (red, green and blue) and an exclusive optical printing head.
3D Images--Without Glasses! - PCWorld
3D Scan : D-IMager with openFrameworks" PLAY-01
ofxAutostereogram Demo on Vimeo
KeckCAVES "Highlight Reel"
Downloads - radiohead - RA DIOHEA_D / HOU SE OF_C ARDS
Jamie Beck e Kevin Burg - Cinemagraphs - fotografie in movimento | CocaColla.it - ​​Cool people drink it!
Make Any Photo Look 3D
Augmented Reality _ Projection on a 3D surface
Facial animation
Cool 3D Photo Montage with Special Effects
3D Portal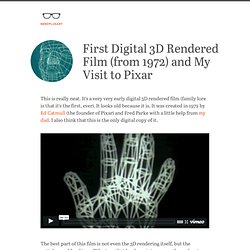 This is really neat. It's a very very early digital 3D rendered film (family lore is that it's the first, ever). It looks old because it is.
1972 3D
Amazing Video of 5th Grader Creating 3D Models
Create a 3D avatar with two photos and run on Facebook
The first Virtual 3D relay with your own head - Virtual + Reality Challenge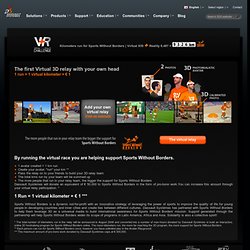 1 run = 1 virtual kilometer = € 1 By running the virtual race you are helping support Sports Without Borders. 1 avatar created = 1 km run Create your avatar, "run" your km ** Pass the relay on to your friends to build your 3D relay team The total kms run by your team will be summed up The more people that run in your relay team, the bigger the support for Sports Without Borders
how to transform 2d pictures into 3d scenes