Grammar
Movie Segments to Assess Grammar Goals.
Modals
The Top 10 Conditionals Song Lyrics. BusyTeacher: Free Printable Worksheets For Busy Teachers Like YOU! Grammar - Future tense. Muse - Uprising "Another promise, another scene, Another packaged lie to keep us trapped in greed, And all the green belts wrapped around our minds...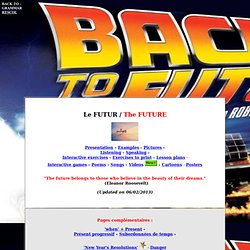 They will not force us, They will stop degrading us, They will not control us, We will be victorious" (lyricsmode.com) + the VIDEO (YouTube) Muse - interview video - The Resistance "D'un constat amer sur la société daujourdhui, flippée, paranoïaque et dépressive, le groupe décrit dans cette interview-vidéo son envie de résistance. " (YouTube) Simple Past.
---