Mirandamay
Miranda
Interested in learning technologies, and workplace learning
8 Reasons to Focus on Informal & Social Learning. Jane Hart. Jane has worked with business and education for over 25 years, providing independent advice on the acquisition, implementation and use of new technologies.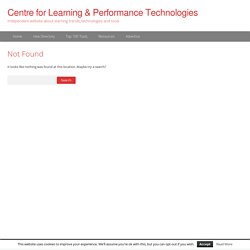 She currently focuses on the application of social media for working and learning. Jane's huge breadth of knowledge and experience in the new emerging world of social learning and social business - in terms of potential approaches and tools as well as pitfalls - means she is able to offer a wide range of advice and consultancy services . Jane has recently set up two very popular social communities, Social Learning Community and Share&Learn. Find out more about them here .
Jane regularly gives keynotes and invited presentations at conferences and other events, both in the UK and internationally as well as globally online. Docs - ePortfolios with GoogleApps.
Google Docs for ePortfolios Video Tutorial. Ashleigh. Cars to buy. Stuff.co.nz - Latest New Zealand News & World News, Sports News & NZ Weather Forecasts. Elearning strategy rersearch. Pearltrees videos. Help.
---