Wireless
When I first got an HDTV I still had SD service from my satellite company and couldn't check out the HD quality. After searching the web a bit I came up with a few DIY HDTV antennas. The first one I built was a fractal antenna. It wasn't exactly to spec.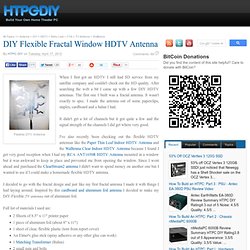 DIY Flexible Fractal Window HDTV Antenna
I've found another use for my parallel port controlled socket box ; by using it in conjunction with a bluetooth dongle, I can detect when I have wandered out of the room.
Controlling the mains with bluetooth proximity | Products of Mike's Mind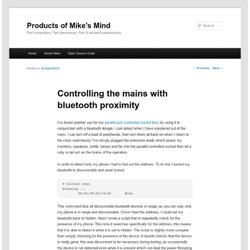 Build Your Own Unified, Cordless TV-Plus-Entertainment-Center Combo
Are wires really that in-view anymore?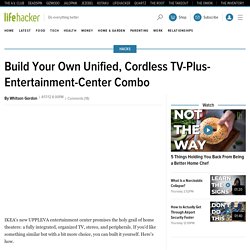 Setup a DIY Network 'DropBox' (aka PirateBox)
PirateBox allows you to quickly setup a mobile wireless file sharing network. Basically, it's a P2P file-sharing device that can turn any space into a temporary, but secure wireless file sharing network.
Build a Solar-Powered, Portable Wi-Fi Hotspot
What are the legal/TOS ramifications of using this to jump onto a stranger's unsecured wi-fi? I know my local public library's wi-fi is accessible in the parking lot and it's on 24x7—and they have no problem with someone sitting in the lot after hours, sucking down the data.
Ever wanted to build your own tiny remote monitoring camera to keep track of who's sticking their hand in the cookie jar? The Internet of Things camera is an open-source camera build based on an Arduino that can be set up to snap pictures at regular intervals or even with a motion sensor.
Build Your Own Tiny Wi-Fi Camera