Web
The Always Up-to-Date Guide to Managing Your Facebook Privacy. My biggest problem with facebook is getting support. Recently removed my own daughter from friends list be accident [report] now I cannot add her nor she me. Tried in vain to get help on facebook but to no avail. Might want to check *her* block list too...those kids these days. My block list is empty, I think I did 'report user' and now she does not show up in my search box..... Post-hoc Analysis of InstaWifi's Launch | Blog | Jesse Chen. Launching My First Android App Ever On July 24th, I launched InstaWifi, my first Android app into the market.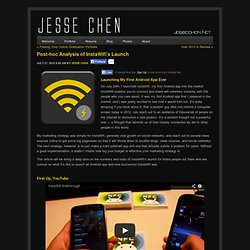 InstaWifi enables you to connect and share wifi networks instantly with the people who you care about. It was my first Android app that I released in the market, and I was pretty excited to see how it would turn out. It's quite amazing if you think about it, that a random guy (like me) behind a computer screen today in 2012, can reach out to an audience of thousands of people on the Internet to announce a new product. It's a random thought but a powerful one — a thought that reminds us of how closely connected we are to other people in this world.
#3038363. On Internet Virulence | Matt Hodges. There are a million and one reasons why the internet is the greatest thing since using soap to prevent the black plague.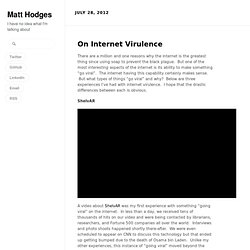 But one of the most interesting aspects of the internet is its ability to make something "go viral". The internet having this capability certainly makes sense. But what types of things "go viral" and why? Better Than Dropbox: The 6 Quickest Ways To Share Any File With Anyone. I love Dropbox. Ever since I found it a few years ago, the way I share files with friends, family and colleagues has changed completely. Dropbox, and similar services, make sharing big files and multiple files as easy as saving them on your own computer. What could be better? » Cool Websites and Tools [July 14th 2012] Best Websites. If you're looking for the best websites on the web, you've come to the right place. MakeUseOf has been reviewing the best websites and the coolest websites for years now, so we've decided to offer a comprehensive list of which websites we consider to be the best of the best. All of the websites on this page are organized into categories, and we've selected only those we believe to be the best ones - those which will most likely be useful to you. We update this page frequently, so check back often and spread the word! Most popular online source for everything related to movies. Movie ratings & reviews, various top rated lists, HD movie trailers, news and lots more. Let the EFF Convince You to Sign the Declaration of Internet Freedom. I share your skepticism of 'clickivism' as you describe it.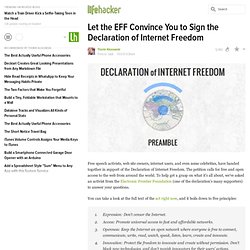 Clicking 'like' on Facebook isn't going to change things, and we want the Declaration to be much more than that. First, it a collaboration with over 100 different organizations, and hopefully the number of people who sign it will be so huge that Congress cannot ignore it. Second, we want users to comment on it, change it, and improve it as well. This is a collaborative process, not just a passive statement. Declaration of Internet Freedom. Where the Web Archives Are. Super Start - enjoyfreeware.org. Super Start A small dial extension for firefox, with a simple todo-list Super Start is a very handy 'speed dial' extension for Firefox.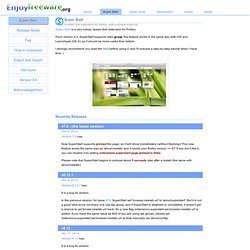 From version 4.0, SuperStart supports sites group, this feature works in the same way with iOS and Launchpad (OS X), so it should be more useful than before. I strongly recommend you read the FAQ before using it, and I'll prepare a step-by-step toturial when I have time :) Recently Releases. The Always Up-to-Date Power User's Guide to Firefox. Question about firefox, this seems to happen only in Firefox and Palemoon (Firefox recompiled for newer instruction sets/processors like SSE2) on my system that every ten pages or so, it will start loading, then say the connection was reset.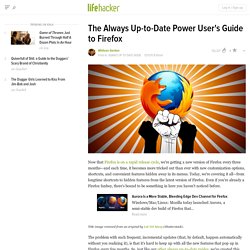 Doesn't happen in Opera, IE, or Chrome, and I've nuked the profile of Firefox or Palemoon a few times when I was using either and did clean installs. Fixes like changing the proxy settings, the IPv6 settigns, deleting the directory, etc didn't work. Any ideas? Master Your Browser's Tabs with These Tricks and Extensions. I've never understood why people want so many tabs open in the first place!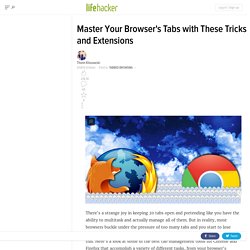 But, I respect your desire to do so. In Chrome, default tab management is a bit iffy.
Online Lists. Google. Website Tools. Email/Social.
---