Toys
100 must-have tech toys. Springfree Trampoline. Trampolines are great fun for kids and kids at heart.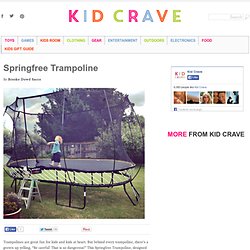 But behind every trampoline, there's a grown up yelling, "Be careful! That is so dangerous!" This Springfree Trampoline, designed by New Zealand engineer Dr. Keith Alexander, is made safe by removing the hard surfaces that cause injury (including the springs and frame) and the risk of falling off. After more than 15 years of injury prevention research, the design was commercialized in 2003 and is now sold in 15 countries.
Doctor Who Series 5 Posters. Biohazard and Zombie Crime Scene Tape. Steampunk Wrist Monocular. Multi-Color LED Lightbulb w/Remote. Melee Mug. Spycam Video Pen Camera. Fiendish Japanese Pocket Puzzle. Archie McPhee & Co. - Toys, Gifts & Novelties. Paper Toys - Paper Cut-Outs - PaperToys.com. Scixors Keychain Scissors. Capt. Jules' Extraordinary Telescope Ring. Ninja Remote Camera and TV Jammer. The Ninja Remote Camera and TV Jammer is an incredible gadget that almost seems too good to be true.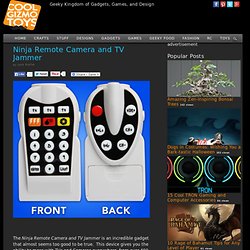 This device gives you the ability to mess with TVs and Cameras everywhere, from over 400 feet away. Your weird friends are watching the History Channel, but you want to watch a Sean Connery movie. What do you do? Take out the Ninja Remote and use the various functions to take over the TV. Yes, this works on almost all TVs. Samurai Sword Handle Umbrella.
---