Toys
100 must-have tech toys
Trampolines are great fun for kids and kids at heart. But behind every trampoline, there's a grown up yelling, "Be careful! That is so dangerous!" This Springfree Trampoline, designed by New Zealand engineer Dr. Keith Alexander, is made safe by removing the hard surfaces that cause injury (including the springs and frame) and the risk of falling off. After more than 15 years of injury prevention research, the design was commercialized in 2003 and is now sold in 15 countries.
Springfree Trampoline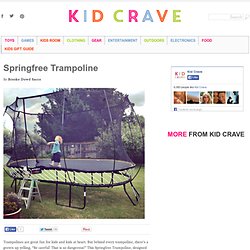 Doctor Who Series 5 Posters
As the story goes, little Amelia Pond had a crack in her wall. Then, an impossible man in an impossible box fell out of the sky. She fed him fish fingers and custard, and promised to return.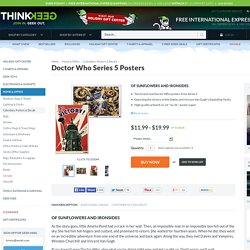 Biohazard and Zombie Crime Scene Tape
Steampunk Wrist Monocular
Multi-Color LED Lightbulb w/Remote
Do you sip your coffee from a demitasse? Is your pinky extended? Gah! Coffee should be strong, black and chewy!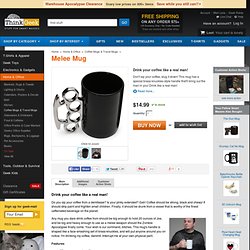 Melee Mug
Spycam Video Pen Camera
Fiendish Japanese Pocket Puzzle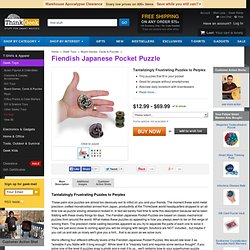 These palm size puzzles are almost too deviously evil to inflict on you and your friends. The moment these solid metal precision crafted monstrosities arrived from Japan, productivity at the ThinkGeek world headquarters dropped to an all time low as puzzle solving obsession kicked in. In fact we barely had time to write this description because we've been fiddling with these lovely things for days. The Fiendish Japanese Pocket Puzzles are based on classic mechanical puzzles from around the world. What makes these puzzles so appealing is how you always seem to be on the verge of solving them. The precision metal casting becomes apparent as you try to separate the parts of each one to solve it.
Statement of Purpose: This site and the images contained herein are intended for educational and entertainment purposes. We encourage you to link to this site. Reproduction Rights Granted: Images may be reproduced as long as copyright notices remain intact. Images may be reproduced in any quantity for use in classroom and educational purposes. We'd be bigger fans of Swiss Army knives if we didn't have to keep paying TSA to mail them back home to us every time we fly. When you get in the habit of having one in your pocket, sometimes you forget that they're not allowed on planes. Oops.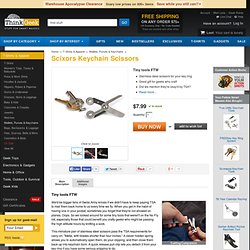 Scixors Keychain Scissors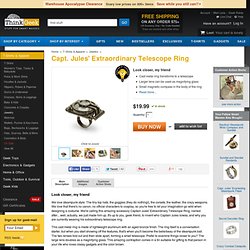 Capt. Jules' Extraordinary Telescope Ring
We love steampunk style. The tiny top hats, the goggles (they do nothing!), the corsets, the leather, the crazy weapons. We love that there's no canon, no official characters to cosplay, so you're free to let your imagination go wild when designing a costume. We're calling this amazing accessory Captain Jules' Extraordinary Telescope Ring, named after... well, actually, we just made him up. It's up to you, geek friend, to invent who Captain Jules is/was, and why you are currently wearing his extraordinary telescope ring.
Ninja Remote Camera and TV Jammer - Cool Gizmo Toys
The Ninja Remote Camera and TV Jammer is an incredible gadget that almost seems too good to be true. This device gives you the ability to mess with TVs and Cameras everywhere, from over 400 feet away. Your weird friends are watching the History Channel, but you want to watch a Sean Connery movie. What do you do? Take out the Ninja Remote and use the various functions to take over the TV. Yes, this works on almost all TVs.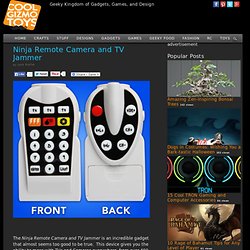 The rain falls softly. The samurai draws his sword. Look, an umbrella.