Tech Design
Future of Screen Technology
myRolltop | New step in portable computers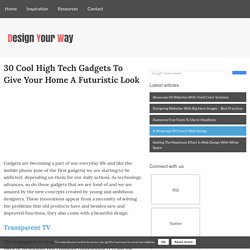 Gadgets are becoming a part of our everyday life and like the mobile phone (one of the first gadgets) we are starting to be addicted, depending on them for our daily actions. As technology advances, so do these gadgets that we are fond of and we are amazed by the new concepts created by young and ambitious designers. These innovations appear from a necessity of solving the problems that old products have and besides new and improved functions, they also come with a beautiful design. The transparent tv designed by Michael Friebe is a marvelous piece of technology that combines conventional LCD and the latest TOLED display technology. This allows to create non-transparent / solid moving pictures with rich color reproduction and full contrast range from solid black to pristine white. Have you ever had a problem with forgetting which light switch stands for what light?
30 Cool High Tech Gadgets To Give Your Home A Futuristic Look
Autodesk Gallery At Singularity University there are several overarching themes. Exponential technology, entrepreneurship, and positive global impact are probably the top 3 at work, but this year's focus on design seems to be embedded within all of the above. Design track chair Jonathan Knowles works as a strategic advisor to the CEO and CTO at Autodesk, the company literally designing the world around us. Autodesk software is responsible for everything from the New York Freedom Tower to Tesla's electric cars, and even the world of Pandora James Cameron created in Avatar. Recently they have been focusing on educational products and 3D Printing technologies, and Knowles brings this wide range of expertise to the community at SU.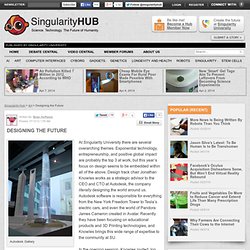 Designing the Future
Bye Bye Ugly A/C Bricks and Power Strips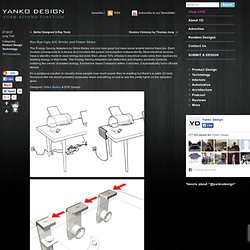 Bye Bye Ugly A/C Bricks and Power Strips by Gilles Belley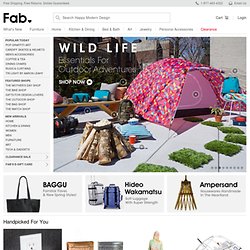 Nous avons le plaisir de vous informer de nouveaux changements. Fab Europe vendra exclusivement la collection de meubles sur mesure de Fab Designed by you. Une manière moderne de vivre et d'habiter des meubles dessinés pour vous à des prix jusqu'á 70% moins chers qu'en magasin.
(30) Fab.com | iPhone Cases & One Awesome Lamp
(31) Fab.com | Retro Gear with a Techie Twist
Either you take the time to hide all those pesky cords and wires around your TV and computer, or you feel guilty about the mess they make when left exposed. With Multi Lines, electrical wires and extension cords are one in the same. The brightly colored cords feature several outlets that are spread out along the cord, instead of being in one inconvenient grouping at the end of it.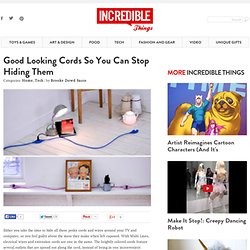 Good Looking Cords So You Can Stop Hiding Them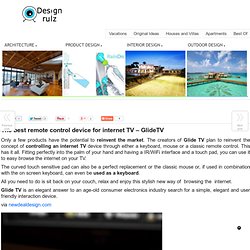 The best remote control device for internet TV – GlideTV
Only a few products have the potential to reinvent the market. The creators of Glide TV plan to reinvent the concept of controlling an internet TV device through either a keyboard, mouse or a classic remote control. This has it all. Fitting perfectly into the palm of your hand and having a IR/WiFi interface and a touch pad, you can use it to easy browse the internet on your TV. The curved touch sensitive pad can also be a perfect replacement or the classic mouse or, if used in combination with the on screen keyboard, can even be used as a keyboard.
DATA clip – USB paperclip for Elecom on DesignRulz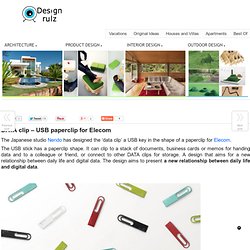 The Japanese studio Nendo has designed the 'data clip' a USB key in the shape of a paperclip for Elecom. The USB stick has a paperclip shape. It can clip to a stack of documents, business cards or memos for handing data and to a colleague or friend, or connect to other DATA clips for storage. A design that aims for a new relationship between daily life and digital data. The design aims to present a new relationship between daily life and digital data.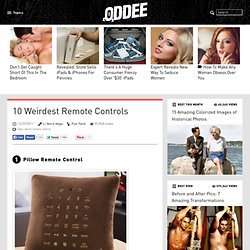 Pillow Remote Control Well, this is just a weird combination of items; it's a sofa pillow that works as a remote control. The Pillow Remote Control ($39.99) is a full-featured universal remote that works with over 500 different components.
10 Weirdest Remote Controls
Design Milk: Modern Design - Page 2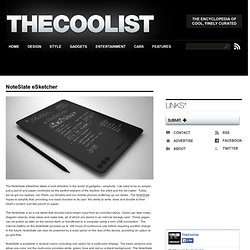 NoteSlate eSketcher The NoteSlate eSketcher takes a bold direction in the world of gadgetry– simplicity.
NoteSlate eSketcher
UP by Jawbone | Make Healthy Living Fun & Social
Finally, Disposable Thumb Drives!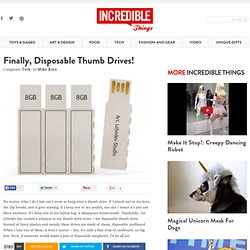 No matter what I do I just can't seem to hang onto a thumb drive. If I attach one to my keys, the clip breaks, and it goes missing. If I keep one in my pocket, one day I notice it's just not there anymore.
Rapunzel Descending Device by Sin Sun Ho
nextep1
The Turning Point For A Phone I love covering concept phones that may not have substance to them (tech-backing), but nevertheless are fun to read about.
Sony Ericsson FH Mobile Phone Concept by Du Jun
Stick POP Portable Printer by Jihun Kang, Youngho Lee, Jieun Lee & Changsu Lee
Printouts In A Jiffy, Anywhere
Is there space for old school guises in the digital revolution?
Rotary Mechanical Smartphone – Concept Phone by Richard Clarkson
Whether you're an early adopter who gets excited about purchasing the latest tech toy, or you're a busy professional looking to find the perfect gift, everyone knows that searching for products can be a long and frustrating experience. Lucky for us, we now have top-tier websites who can guide us through it all. Today, we've chosen six that not only possess expert knowledge, they have the discerning, carefully curated eye that we can rely on to give us the best products that fit our own, personal style.
Top 6 Sites to Find Cool Gadgets and Gear
Eun-Gyeong Gwon & Eun-Jae Lee
Future technology