Sleep
Some of us just aren't morning people, and so help the person who tries to talk to us before we get a cup of coffee. That said, if you're regularly grumpy or grouchy in the morning, the problem may be easier to fix than you think. Remember when we discussed the science behind the power nap and why it worked? The key to the power nap is making sure you get up before you reach the third phase of your sleep cycle, where sleep inertia kicks in and makes your mind and body hate the idea of waking up. If you regularly wake up angry or grouchy, the problem may be that you're regularly waking in that deep part of your sleep cycle.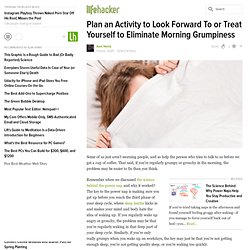 Plan an Activity to Look Forward To or Treat Yourself to Eliminate Morning Grumpiness
Home Sleep Home - Own - Thrillist Nation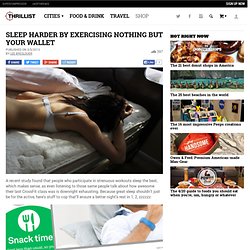 A recent study found that people who participate in strenuous workouts sleep the best, which makes sense, as even listening to those same people talk about how awesome their last CrossFit class was is downright exhausting. Because great sleep shouldn't just be for the active, here's stuff to cop that'll ensure a better night's rest in 1, 2, zzzzzz. LarkLife This wristband tracks your movements during the day/ sleep patterns at night using an iPhone app, and even monitors your circadian rhythms to advise the best time to sleep. In the morning, it'll "gently nudge you awake" using dynamic vibration -- strange, as that's the process many women use to put them to sleep. Read more about this incredible technology . Nightfood Eating before bed can actually support a healthy night's sleep, as long as the thing you're eating doesn't rhyme with Moritos.
Do you ever feel sleepy or "zone out" during the day? Do you find it hard to wake up on Monday mornings? If so, you are familiar with the powerful need for sleep. However, you may not realize that sleep is as essential for your well-being as food and water.
Brain Basics: Understanding Sleep
Share "When you have insomnia, you're never really asleep, and you're never really awake."~Fight Club How To Get Deep Sleep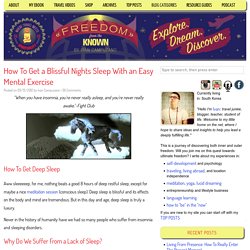 How To Get Deep Sleep With a Simple Mental Exercise
Deep sleep is a mysterious state that we usually enter several times each night. The nature of deep sleep is somewhat less well known than the more dramatic dream sleep. While we are very aware today of dream sleep and of the ability of some people to be conscious of and even direct their dreams in a state known as lucid dreaming, the nature of deep sleep continues to invite a sense of mystery.
The Mystery of Deep Sleep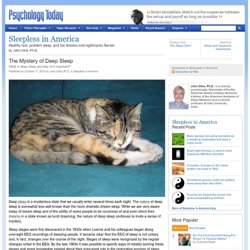 How Much Sleep Do You Really Need to Work Productively?
Every one of us, on average, will be sleeping for 24 years in our lifetime. Still, there are many unanswered questions about sleep and how much we need of it. With this post, Leo Widrich sets out to uncover what the most important research has taught us about sleep.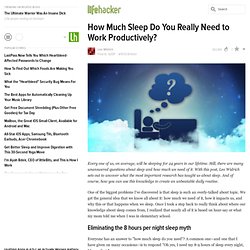 Sleep better with Pzizz (discounted today only!)
Pzizz , a highly rated nap/sleep aid that works by generating unique binaural soundtracks for better snoozing, is on sale today for $24.95 at MacUpdate (38% off). Normally I wouldn't throw something like this out there, but I happen to know Edward , the guy behind Pzizz, and have been chatting with him ever since he showed up on my blog (thanks Digg !), and know that he's a great guy. Personally, I've found Pzizz really handy not just for how it helps me fall asleep (which it does) but for both the quality of rest that I get and the way in which it wakes me up; unlike an alarm that you into consciousness, Pzizz is designed to bring you out of sleep in waves, slowing reviving you and helping you feel refreshed.
Supposedly all humans are supposed to get about eight hours of sleep per night, but the notion that we're entirely the same is a little silly. Some people need more sleep than others, and improving the quality of your sleep is often far more important than the amount of time. The Hindustan Times points to new research coming out of the Ludwig Maximilians University of Munich that has found a gene responsible for allowing some people to operate on only four hours of sleep per night, and a brain chemical called Orexin-A is suspected of being the only thing we really need to feel awake during the day. As more findings come to light, it seems sleep isn't as straightforward as resting for a finite period of time.
How Much Sleep Do You Actually Require (and Why)?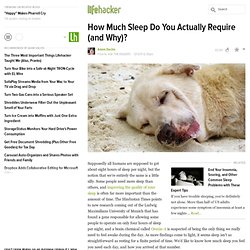 16 Tips for Staying Awake When You're Tired
While there's an art to surviving the all-nighter , there's also an art to staying awake throughout the day when you are operating on little to no sleep. Here's a few general tips: Drinking a lot of water is a must. Doing jumping jacks every thirty minutes in the office hallway might make you look weird, but it will really keep you from falling asleep.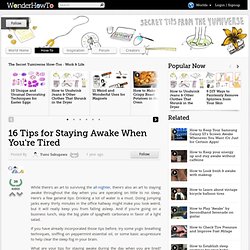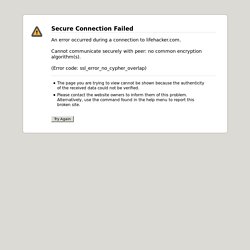 If you have trouble sleeping, you're definitely not alone. More than half of US adults experience some symptom of insomnia at least a few nights a week. To help us get more of that elusive thing called sleep—and address issues beyond insomnia, like snoring, "monkey brain", and difficulty waking—we enlisted the help of a sleep specialist. Here's what we learned. We should spend about a third of our day asleep, resting peacefully and recharging for the next day. Instead, studies from the National Sleep Foundation (NSF) show that more than a third of the US population wakes up feeling unrefreshed, and almost just as many people wake up often during the night.
End Your Insomnia, Snoring, and Other Common Sleep Problems with These Expert Tips
Foreword It is everyone's dream to wake up fresh, happy, and ready for action on a daily basis. Sadly, in the modern world, only a small minority lives that dream. Yet the dream is within reach for most healthy people given: a bit of knowledge, and a readiness to make some lifestyle sacrifice. I hope that this article compiles all the basic ingredients of knowledge that are helpful in accomplishing refreshing sleep.
"There is a time for many words, and there is also a time for sleep." - Homer Tired after getting a full nine hours and still feeling exhausted? You sleep the sleep of the innocent – you nod off quickly, don't have nightmares and have no trouble breathing – and still you can hardly get up in the morning and seldom feel totally awake, no matter how long you slept the previous night. You are suffering from a clear-cut case of ineffective sleep. The good news is that, starting tonight, you can improve the quality of your sleep.
Once upon a time—a very long time—I used to sleep well. After too many restless nights, I decided something needed to be done. I changed my diet, my exercise routine, and a lot more to try and figure out the problem, but without any hard data it was all speculation. A few key pieces of technology helped me figure out what I was doing right and wrong, and how pretty much anyone can do it, too, for practically no money. There are plenty of opinions about how you can sleep better, and most of them are probably right for someone, but it's hard to know which ones are right for you with all the variables in the mix. You could pay to spend a night or two at a sleep clinic, but that's going to cost you quite a bit and it'll never feel like you're sleeping at home.
How I Achieved Better Sleep with the Help of Technology
How to Sleep Better
Edit Edited by James Quirk, Sue Crocker, Krystle C., Nathan Wong and 180 others Getting a good night's sleep is one of the most important things you can do for your overall health and well-being. Adequate sleep gives your body time and energy to recover from the day's stresses, and helps you to stay sharp and focused throughout your day. If you've already figured out how to fall asleep, but you're having trouble getting good sleep through the night (i.e., you're tossing, turning, waking up more than once), this article will explain what you can do to ensure a peaceful night's slumber!
There's a One in Ten Chance You're Dreaming Right Now