Places/Restaurants/Clubs
The Daily Meal's 101 Best Restaurants in America for 2013 Slideshow
America's Secret Bars and Hidden Modern Speakeasies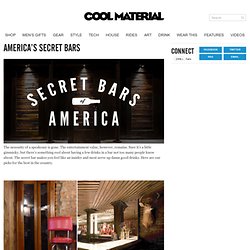 The necessity of a speakeasy is gone. The entertainment value, however, remains. Sure it's a little gimmicky, but there's something cool about having a few drinks in a bar not too many people know about. The secret bar makes you feel like an insider and most serve up damn good drinks. Here are our picks for the best in the country.
'World's 50 Best' Restaurants 2013: El Celler De Can Roca Named Top Spot
El Celler De Can Roca restaurant in Girona, Spain has been named the best restaurant in the world by Restaurant magazine. Each year, the world's top toques gather to hear the announcement of the World's 50 Best list. This is the first year the restaurant has held this title, though it has been on the list for eight years and hold three Michelin stars. The restaurant is helmed by three brothers -- Josep, Jordi and Joan Roca. They have also been hard at work on a massive book. While El Celler De Can Roca has been a top contender for several years, Noma held the honors for the past three years.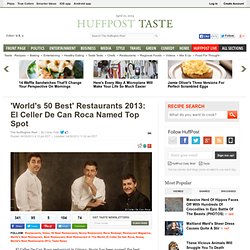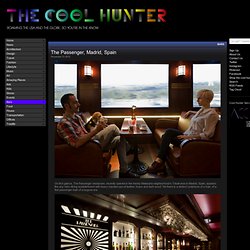 On first glance, The Passenger restaurant, recently opened in the trendy Malasaña neighborhood's Triball area in Madrid, Spain, appears like any retro dining establishment with heavy-handed use of leather, brass and dark wood. Yet there is a distinct undertone of a train, of a fine passenger train of a bygone era. The bulky and clubby arm chairs, the iron table legs, the big windows all refer to a time when heads of state and industrialists, often travelling with their wives and servants, occupied entire train cars and dined in the most lavishly appointed dining cars rivalling the best-known fine establishments of the time. But the real fun aspect of the 150-seat The Passenger -- coffee bar by day, rock bar by night -- is the illusion of movement.
The Passenger, Madrid, Spain
Restaurant Muramoto 608 259 1040 • Sushi Muramoto 608 441 1090 • 43 North 608 255 4343
Takumi 53704 - Madison
The Arts Theatre Club
Alfred Takes Guesswork Out of Finding Restaurant to Go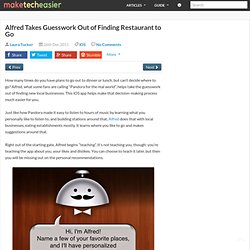 How many times do you have plans to go out to dinner or lunch, but can't decide where to go? Alfred, what some fans are calling "Pandora for the real world", helps take the guesswork out of finding new local businesses. This iOS app helps make that decision-making process much easier for you.
Want all of the benefits of organic, local produce, meat, and dairy with the convenience of a grocery store? A food co-op might be what you're looking for. They're pretty easy to find and in many cases, you can walk out with bags full of groceries for a fraction of what you'd pay at a traditional supermarket. Here's how to find and get involved with one near you. A Food Co-Op?
Saving Money News, Videos, Reviews and Gossip - Lifehacker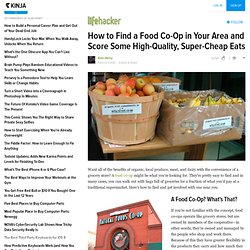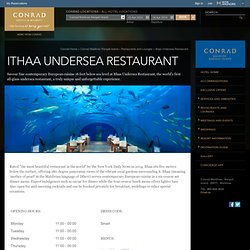 Savour fine contemporary European cuisine 16 feet below sea level at the Ithaa Undersea Restaurant, the world's first all-glass undersea restaurant, a truly unique and unforgettable experience. Set five metres below the surface with 180-degrees of panoramic views of the vibrant coral gardens surrounding it, Ithaa (meaning 'mother of pearl' in the Maldivian language of Dihevi) serves contemporary European cuisine in a six-course set dinner menu matched by a wine concept dedicated to Champagne. Expect indulgences such as caviar for dinner while the four-course lunch menu offers lighter fare. Also open for mid-morning cocktails and can be booked privately for breakfast, weddings or other special occasions. Ithaa Lunch Menu (PDF) Ithaa Dinner Menu (PDF)
Maldives Restaurants and Lounges - Conrad Maldives Rangali Island
amsterdam – cruise – london – sanfrancisco – istanbul – losangeles – onlocation – music – club – restaurant
Underwater Restaurant List: 6 of The Most Awesome - Cool Gizmo Toys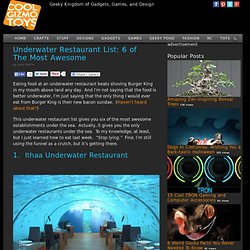 Eating food at an underwater restaurant beats shoving Burger King in my mouth above land any day. And I'm not saying that the food is better underwater, I'm just saying that the only thing I would ever eat from Burger King is their new bacon sundae. (Haven't heard about that?) This underwater restaurant list gives you six of the most awesome establishments under the sea. Actually, it gives you the only underwater restaurants under the sea.
London is home to over 8 million people and being British they are born with a beer glass in hand and an incredible thirst. This is why the English pub was invented and London has several thousand public houses to choose from. It's a hard job trying to find out the top 10 best pubs in the London area, but someone has to do it so here goes. 10. Olde Cheshire Cheese, Fleet Street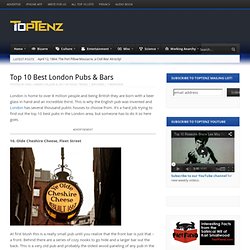 Top 10 London Pubs & Bars
The Ten Best New Restaurants in America: Restaurants + Bars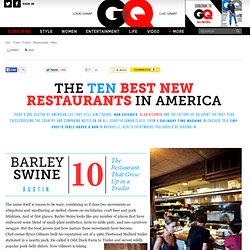 The name itself is reason to be wary, combining as it does two movements as ubiquitous and smothering as melted cheese on enchiladas: craft beer and pork fetishism. And at first glance, Barley Swine looks like any number of places that have embraced some blend of small-plate aesthetics, farm-to-table piety, and neo-carnivore swagger. But the food proves just how mature these movements have become. Chef-owner Bryce Gilmore built his reputation out of a 1980 Fleetwood Mallard trailer stationed in a nearby park.
Concrete Blonde - Sydney
It seems we really like the work of Sydney's Dreamtime Australia Design as this is the third time we featured their work. Dreamtime director Michael McCann and team are the designers of the Concrete Blonde restaurant recently launched in Potts Point at Kings Cross in Sydney. Earlier, we've covered their Victor Churchill butcher and the Sydney Seafood School. Concrete Blonde is a 100-seat restaurant presided over by chef Patrick Dang who has brought the many nuances of his international experience to the stylish tables of Concrete Blonde. We love the stunning fireplace, the retro comic-book mural and the clever metal "tin-can" wall slots for firewood.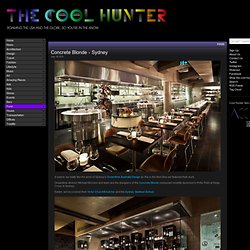 Bowling alleys are right up there with curling rinks on the list of the most unlikely milieus for anything chic. Yet, at The Spare Room, on the mezzanine level of the Hollywood Roosevelt Hotel, both bowling and the bowling oxfords custom-designed for the newly opened lounge by George Esquivel are now decidedly in. Celebrities and notables are seen nightly at the venue, created by nightlife wizards Med Abrous and Marc Rose and cocktail king Aidan Demarest. The design, by the Los Angeles-based design firm Studio Collective, combines vintage, custom-tailored and new to conjure up an atmosphere of by-gone affluence.
The Spare Room - Hollywood
:: Please Don't Tell ::
Illegal Burger - Oslo, Norway
Illegal Burger, at Møller Gata 23 in Olso, capital of Norway, opened in secrecy late last year but it has since become a hit among those who appreciate a delicious charcoal-grilled burger. Located in a space that used to house a "knock-three-times" club, the fresh-looking burger place still carries some of that mystery, hence the name, too. Illegal Burger does not quite fit in any standard restaurant or club category and it does not look like a burger joint. Low-ceilinged and only 43 square meters in size, the heavily wood-paneled space looks a bit like a below deck of a ship, with the tight kitchen resembling a galley. Flexibility was one of the key points in the design brief because the space functions as a party space, hosting intimate events with DJs and late night parties.
Spirito – Martini: From Church To Nightclub Last year, we covered what we consider to be the most beautiful bookstore in the world, a rehabbed church in Maastriche, Netherlands. There's something about a secularly-revived church that excites us, so we had to share the new Spirito – Martini lounge in Brussels, Belgium.
Spirito – Martini: From Church To Nightclub
Twenty Five Lusk: San Francisco
Twenty Five Lusk: San Francisco Email 53 Email Restaurateurs Chad Bourdon and Matthew Dolan have opened a multi-level restaurant and lounge in San Francisco's SOMA district. Twenty Five Lusk serves up New American cuisine in a rehabbed meat packing warehouse originally constructed in 1917. The old timber, vintage bricks and exposed duct work are as much a part of the design as the contemporary furnishings within.
Alice of Magic World – Tokyo
Whimsical places exist all over the world. And We Heart is just the place to discover some of them. Check out this awesome new Tokyo restaurant designed by Fantastic Design Works Co. Alice of Magic World – the fourth in a series of eateries based on Lewis Carroll's creation – is a decidedly trippy affair, complete with custom made heart shaped chandelier and table, playing card tables and its own forest.
NINJA NEW YORK Restaurant, Finest Japanese Cuisine
Underground Kitchen and Catering in Madison WI | Underground Food Collective
The 10 Weirdest Food Pairings You Just Have to Try
Cook Taste Eat : Home
New Trader Joe's Cookbook
s Good Food on a Tight Budget
Homemade jalapeno poppers with cheeseburger filling |
8 of the most delicious international snacks in existence
Macondo NYC: Latin Street Gourmet