Other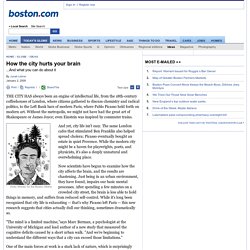 THE CITY HAS always been an engine of intellectual life, from the 18th-century coffeehouses of London, where citizens gathered to discuss chemistry and radical politics, to the Left Bank bars of modern Paris, where Pablo Picasso held forth on modern art. Without the metropolis, we might not have had the great art of Shakespeare or James Joyce; even Einstein was inspired by commuter trains. And yet, city life isn't easy. The same London cafes that stimulated Ben Franklin also helped spread cholera; Picasso eventually bought an estate in quiet Provence. While the modern city might be a haven for playwrights, poets, and physicists, it's also a deeply unnatural and overwhelming place.
How the city hurts your brain - The Boston Globe
20 Optical Illusions That Might Break Your Mind
Philosophy / Thinking / Ideas (Beta/Loading Bay)
WHY DO SOME PEOPLE RESIST SCIENCE By Paul Bloom and Dena Skolnick Weisberg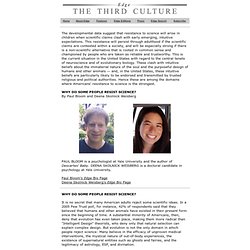 It is no secret that many American adults reject some scientific ideas. In a 2005 Pew Trust poll, for instance, 42% of respondents said that they believed that humans and other animals have existed in their present form since the beginning of time. A substantial minority of Americans, then, deny that evolution has even taken place, making them more radical than "Intelligent Design" theorists, who deny only that natural selection can explain complex design. But evolution is not the only domain in which people reject science: Many believe in the efficacy of unproven medical interventions, the mystical nature of out-of-body experiences, the existence of supernatural entities such as ghosts and fairies, and the legitimacy of astrology, ESP, and divination. There are two common assumptions about the nature of this resistance.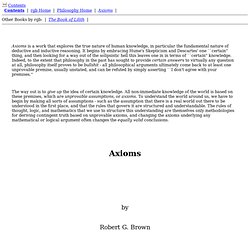 Contents Contents | rgb Home | Philosophy Home | Axioms | Other Books by rgb: | The Book of Lilith | Axioms is a work that explores the true nature of human knowledge, in particular the fundamental nature of deductive and inductive reasoning. It begins by embracing Hume's Skepticism and Descartes' one ``certain'' thing, and then looking for a way out of the solipsistic hell this leaves one in in terms of ``certain'' knowledge. Indeed, to the extent that philosophy in the past has sought to provide certain answers to virtually any question at all, philosophy itself proves to be bullshit - all philosophical arguments ultimately come back to at least one unprovable premise, usually unstated, and can be refuted by simply asserting ``I don't agree with your premises.'' The way out is to give up the idea of certain knowledge.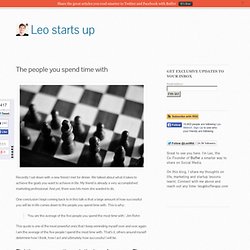 The people you spend time with
Recently I sat down with a new friend I met for dinner. We talked about what it takes to achieve the goals you want to achieve in life. My friend is already a very accomplished marketing professional. And yet, there was lots more she wanted to do. One conclusion I kept coming back to in this talk is that a large amount of how successful you will be in life comes down to the people you spend time with.
Developing our sense of smell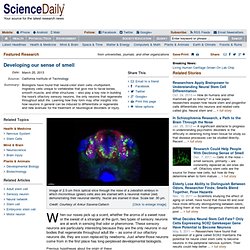 Mar. 25, 2013 — When our noses pick up a scent, whether the aroma of a sweet rose or the sweat of a stranger at the gym, two types of sensory neurons are at work in sensing that odor or pheromone. These sensory neurons are particularly interesting because they are the only neurons in our bodies that regenerate throughout adult life -- as some of our olfactory neurons die, they are soon replaced by newborns. Just where those neurons come from in the first place has long perplexed developmental biologists.
6 Apps & Websites to Get Your Ear in Shape
If you followed along with us a few weeks ago, you know how much interval ear training can help you as a musician and how to get started with training itself. If you haven't read it, head on over to Boot Camp for Your Ear . This time, we're going to look at a bunch of applications and websites that will help you with regular ear training sessions.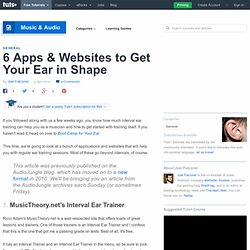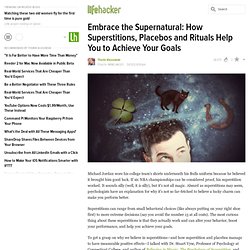 Michael Jordan wore his college team's shorts underneath his Bulls uniform because he believed it brought him good luck. If six NBA championships can be considered proof, his superstition worked. It sounds silly (well, it is silly), but it's not all magic.
Embrace the Supernatural: How Superstitions, Placebos and Rituals Help You to Achieve Your Goals
Binaural Labs - Home
Maria Popova (brainpicker) on Twitter
Mindfire: Big Ideas for Curious Minds (9780983873105): Scott Berkun
Have you seen the Bol­ly­wood film 3 Idiots ? It's the highest-grossing Bol­ly­wood film of all time in India about the adven­tures of three col­lege engi­neer­ing stu­dents. One of the scenes left an impres­sion in me.
Overthinking ← Principia Arbiter
Shervin | Success Amnesia...