Organize
Clean
Clothing photography tips - how to take pictures of clothing. Taking good quality pictures of clothing can be tricky.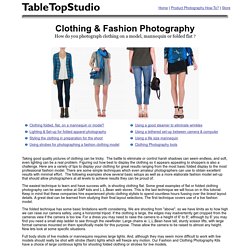 The battle to eliminate or control harsh shadows can seem endless, and soft, even lighting can be a real problem. Figuring out how best to display the clothing so it appears appealing to shoppers is also a challenge. Here are a variety of tips to display your clothing for great results ranging from the most basic folded display to the most professional fashion model. There are some simple techniques which even amateur photographers can use to obtain excellent results with minimal effort. The following examples show several basic setups as well as a more elaborate fashion model set-up that should allow photographers at all levels to achieve results they can be proud of.
"The Art of Clean Up" by Ursus Werhli « TYPOGRAFFIT : BLOG. German artist Ursus Werhli takes obsessive compulsive behavior to a whole new level with his work in completely organizing various objects and situations in clever ways.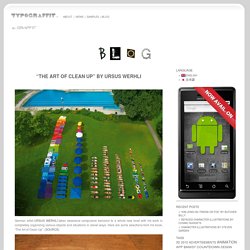 Here are some selections from his book, "The Art of Clean Up". (source) This entry was posted on Wednesday, December 11th, 2013 at 05:16:26 PM and is filed under BLOG English, BLOG Japanese . You can follow any responses to this entry through the RSS 2.0 feed. Clothing Inventory and Organization - Frugal Village | Frugal Village. Taking an inventory of the clothing in your home can help you avoid purchasing more than you need.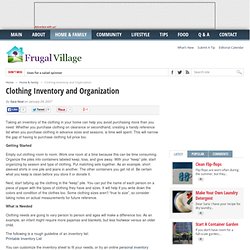 Whether you purchase clothing on clearance or secondhand, creating a handy reference list when you purchase clothing in advance sizes and seasons, is time well spent. This will narrow the gap of having to purchase clothing full price too. Getting Started.
Other Organize. Organize Tech. Spaces.
---