Money Ideas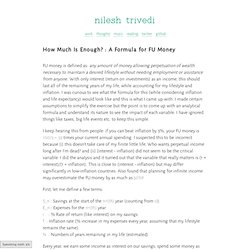 Nilesh Trivedi :: How Much Is Enough? : A Formula for FU Money
FU money is defined as: any amount of money allowing perpetuation of wealth necessary to maintain a desired lifestyle without needing employment or assistance from anyone. With only interest (return on investments) as an income, this should last all of the remaining years of my life, while accounting for my lifestyle and inflation. I was curious to see what the formula for this (while considering inflation and life expectancy) would look like and this is what I came up with.
Don't Indulge. Be Happy.
When Money Can Buy Happiness, Use It
I've been gradually adopting a more minimalistic posture towards consuming and keeping things these past few years. Latest thing I did not upgrade: iPad. The iPad 2 is good enough for my needs.
Checkbox Syndrome: Why We Spend Money on Things We Don't Need (and How to Avoid It)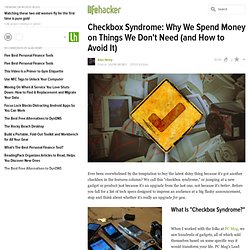 Eric BlairActivist Post First, the banksters hoodwinked an angry public into bailing out their collateralized-debt obligations and derivative Ponzi scheme to the tune of what may turn out to be over $600 Trillion dollars. Derivatives are nothing more than bets on other bets, on other bets, that are all completely worthless.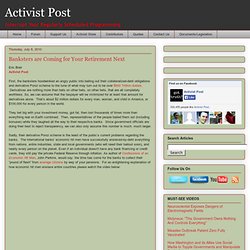 Banksters are Coming for Your Retirement Next
Its Not Always About the Money
In a post a few days ago, I made an offhand comment about how I didn't really receive personal pleasure from seeing my net worth increase, though I once did. A few people emailed me on that subject, so I thought I'd clarify what I meant. When I first began to overcome my personal finance mistakes, I found that calculating my net worth and looking at the change from month to month was incredibly powerful.
Net Worth and Pleasure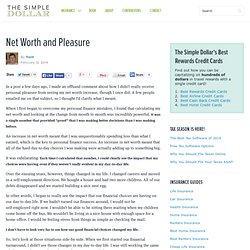 Track How Happy You Are with Your Purchases in Your Ledger