Money Ideas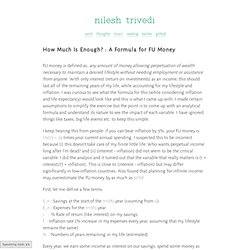 Nilesh Trivedi :: How Much Is Enough? : A Formula for FU Money
FU money is defined as: any amount of money allowing perpetuation of wealth necessary to maintain a desired lifestyle without needing employment or assistance from anyone. With only interest (return on investments) as an income, this should last all of the remaining years of my life, while accounting for my lifestyle and inflation. I was curious to see what the formula for this (while considering inflation and life expectancy) would look like and this is what I came up with.
Don't Indulge. Be Happy.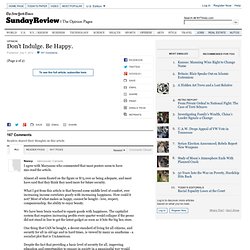 USING your money to promote underindulgence requires a shift in behavior, for sure. But another scientifically validated means of increasing the happiness you get from your money is even more radical: not using it on yourself at all. Imagine walking down the street to work and being approached by our student Lara Aknin, who hands you an envelope.
When Money Can Buy Happiness, Use It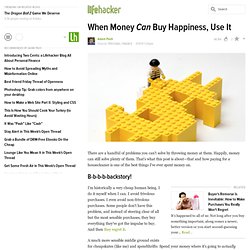 I 100% agree with this article. When I was with my ex we did this and it was the best thing ever. $80 every two weeks for a two person crew to come in (a young couple with lots of energy!)
Ever been overwhelmed by the temptation to buy the latest shiny thing because it's got another checkbox in the features column? We call this "checkbox syndrome," or jumping at a new gadget or product just because it's an upgrade from the last one, not because it's better. Before you fall for a list of tech specs designed to impress an audience at a big flashy announcement, stop and think about whether it's really an upgrade for you.
Checkbox Syndrome: Why We Spend Money on Things We Don't Need (and How to Avoid It)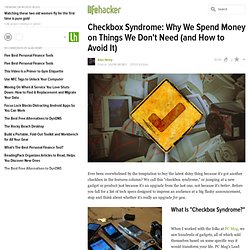 Eric BlairActivist Post First, the banksters hoodwinked an angry public into bailing out their collateralized-debt obligations and derivative Ponzi scheme to the tune of what may turn out to be over $600 Trillion dollars. Derivatives are nothing more than bets on other bets, on other bets, that are all completely worthless.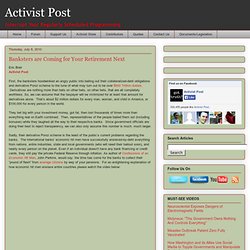 Banksters are Coming for Your Retirement Next
Its Not Always About the Money
In a post a few days ago, I made an offhand comment about how I didn't really receive personal pleasure from seeing my net worth increase, though I once did. A few people emailed me on that subject, so I thought I'd clarify what I meant. When I first began to overcome my personal finance mistakes, I found that calculating my net worth and looking at the change from month to month was incredibly powerful.
Net Worth and Pleasure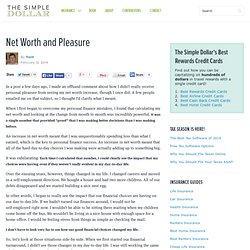 Track How Happy You Are with Your Purchases in Your Ledger