Mind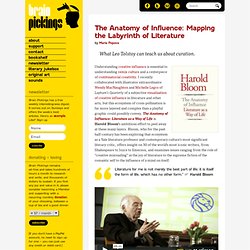 The Anatomy of Influence: Mapping the Labyrinth of Literature
by Maria Popova What Leo Tolstoy can teach us about curation. Understanding creative influence is essential to understanding remix culture and a centerpiece of combinatorial creativity . I recently collaborated with illustrator extraordinaire Wendy MacNaughton and Michelle Legro of Lapham's Quarterly of a subjective visualization of creative influence in literature and other arts, but this ecosystem of cross-pollination is far more layered and complex than a playful graphic could possibly convey. The Anatomy of Influence: Literature as a Way of Life is Harold Bloom' s ambitious effort to peel away at these many layers.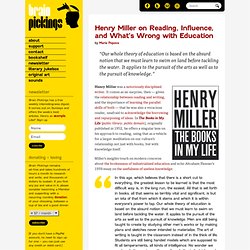 by Maria Popova "Our whole theory of education is based on the absurd notion that we must learn to swim on land before tackling the water. It applies to the pursuit of the arts as well as to the pursuit of knowledge."
by Maria Popova One key question for breaking free of consumer culture's hamster wheel. British philosopher and writer Alan Watts (1915-1973), author of the cult-classic The Way of Zen , played a key role in popularizing Eastern philosophy in the West, like John Cage had done , in the middle of the 20th century. In this short remix video, a fine complement to this omnibus of wisdom on how to find your purpose and do what you love , Watts asks the seemingly simple question of what you would do if money were no object: If you say that money is the most important thing, you'll spend your life completely wasting your time: You'll be doing things you don't like doing in order to go on living, that is, in order to go on doing things you don't like doing — which is stupid!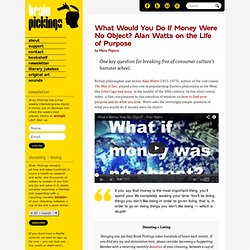 What Would You Do If Money Were No Object? Alan Watts on the Life of Purpose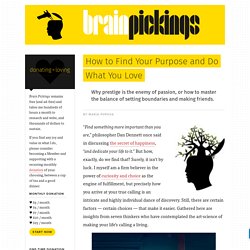 by Maria Popova Why prestige is the enemy of passion, or how to master the balance of setting boundaries and making friends. "Find something more important than you are," philosopher Dan Dennett once said in discussing the secret of happiness , "and dedicate your life to it." But how, exactly, do we find that? Surely, it isn't by luck.
Nonsocial Transient Behavior: Social Disengagement on the Greyhound Bus - Kim - 2012 - Symbolic Interaction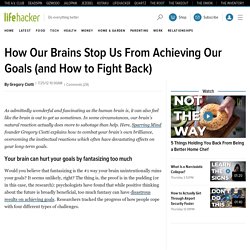 Why? Why could fantasizing about a positive end take a turn for the worse? Jeremy Dean, a psychological researcher at UCL London and the owner of PsyBlog had this to say about the researcher's conclusions: The problem with positive fantasies is that they allow us to anticipate success in the here and now. However, they don't alert us to the problems we are likely to face along the way and can leave us with less motivation—after all, it feels like we've already reached our goal. It's one way in which our mind's own brilliance lets us down. Because it's so amazing at simulating our achievement of future events, it can actually undermine our attempts to achieve those goals in reality.
Portal:Thinking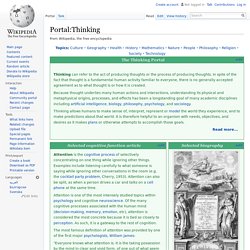 Attention is the cognitive process of selectively concentrating on one thing while ignoring other things. Examples include listening carefully to what someone is saying while ignoring other conversations in the room (e.g. the cocktail party problem, Cherry, 1953). Attention can also be split, as when a person drives a car and talks on a cell phone at the same time. Attention is one of the most intensely studied topics within psychology and cognitive neuroscience .
Organization & Productivity