Lists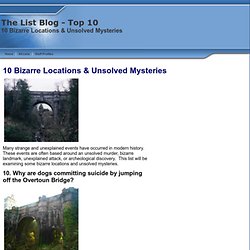 10. Why are dogs committing suicide by jumping off the Overtoun Bridge? The Overtoun Bridge is an arch bridge located near Milton, Scotland, over the Overtoun Burn.
Abandoned Places: 10 Creepy, Beautiful Modern Ruins Abandoned Places | We humans are explorers by nature. The quest for discovery, both old and new, is part of what separates us from rest of the animal kingdom. Since the world we live in has been largely mapped and plotted, we urban adventurers turn our sights toward the relics of old and the ruins of the recent past.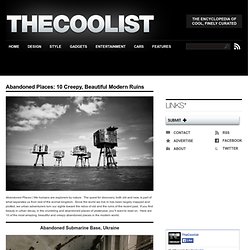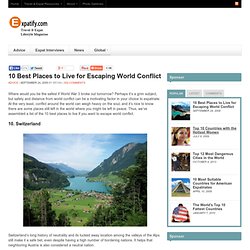 Where would you be the safest if World War 3 broke out tomorrow? Perhaps it's a grim subject, but safety and distance from world conflict can be a motivating factor in your choice to expatriate. At the very least, conflict around the world can weigh heavy on the soul, and it's nice to know there are some places still left in the world where you might be left in peace. Thus, we've assembled a list of the 10 best places to live if you want to escape world conflict. 10.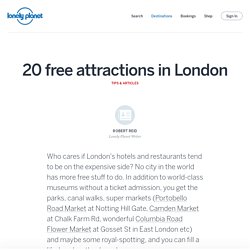 Nov 1, 2012 12:18:55 PM Robert Reid Lonely Planet Author Who cares if London's hotels and restaurants tend to be on the expensive side? No city in the world has more free stuff to do. In addition to world-class museums without a ticket admission, you get the parks, canal walks, super markets ( Portobello Road Market at Notting Hill Gate, Camden Market at Chalk Farm Rd, wonderful Columbia Road Flower Market at Gosset St in East London etc) and maybe some royal-spotting, and you can fill a life.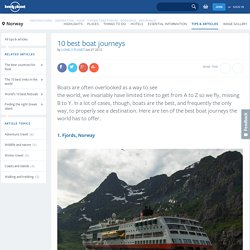 Jun 27, 2012 9:08:31 AM Boats are often overlooked as a way to see the world; we invariably have limited time to get from A to Z so we fly, missing B to Y. In a lot of cases, though, boats are the best, and frequently the only way, to properly see a destination.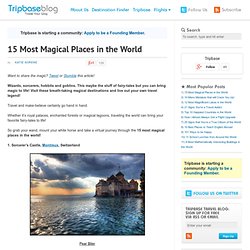 Want to share the magic? Tweet or Stumble this article! Wizards, sorcerers, hobbits and goblins. This maybe the stuff of fairy-tales but you can bring magic to life! Visit these breath-taking magical destinations and live out your own travel legend! Travel and make-believe certainly go hand in hand.
May 15, 2011 3:06:19 AM Worried that the economy might put a crimp in your travel plans next year? Never fear: travel doesn't have to break the bank. Your currency may be depressed, but that doesn't mean you have to be; there are still many destinations around the world that can be enjoyed on the cheap. If you let the global economic ups-and-downs work to your advantage, adopt some personal austerity measures in pricier destinations, and head towards up-and-coming destinations, you can stay on the road longer for less. Fresh from Lonely Planet's Best in Travel 2011 (published in November 2010) we bring you this bargainous bounty of 10 budget-friendly destinations where you can get the most bang for your buck.
The Daily Meal: The World's Most Secluded Destinations (PHOTOS)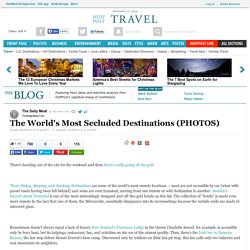 A seven hour journey from Copenhagen to Ilulissat, the Hotel Arctic is situated in a small town in Greenland where people travel by dog sleds. It is the world's northernmost hotel, giving you the option of staying in an igloo on the edge of the Ice Fjord or in a room (with a view of the crazy adventurers in their igloos). The hotel boasts two restaurants, a bar, and a seasonal summer barbecue serving dishes like freshly caught seafood, terrine of braised shoulder of musk ox, and Greenlandic halibut, while the new Ice Rock Bar serves old and new world wines from the hotels truly impressive wine cellar. Related: Five Hotels Made of Ice Photo Credit: © Flickr/Nancy Carels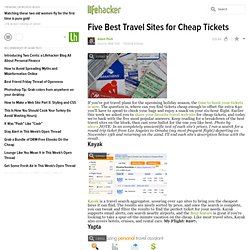 If you've got travel plans for the upcoming holiday season, the time to book your tickets is now . The question is, where can you find tickets cheap enough to offset the extra $40 you'll have to spend to check your bags and enjoy a snack on your six-hour flight. Earlier this week we asked you to share your favorite travel web site for cheap tickets, and today we're back with the five most popular answers.