List
Hack Your Gadgets and Void Your Warranties This Weekend. Speaking of hacking - why not - let me share my hacking experience today: On multiple levels!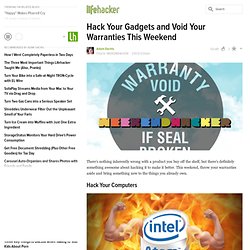 - A digital photography tech comment, if you will. I just received my brand new Eye-fi X2 Pro card. Totally forgetting to check how Magic Lantern firmware hack - currently installed on my Canon 550D/T2i - deals with it, anxious as I was to test the thing up, popped it in and turned the camera on. Nothing. Top 10 Ways to Unlock the Unlockable. Top 10 Gaming Hacks and DIY Projects. Top 10 Ways to Turn Your Retired Gadgetry into the Technology of the Future. SExpand I have written How-Tos for many of them, but I concentrate on the "why" answers, not the "how".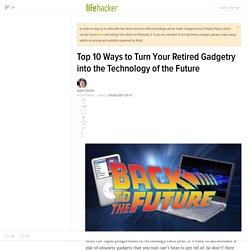 There are lots of places on the internet with step-by-step guides. That isn't my best skill, I know this. Top 10 Awesome Things You Can Do With the Underused Gadgets You Already Own. My computer recently broke- a Windows PC that just decided to stop working from time to time.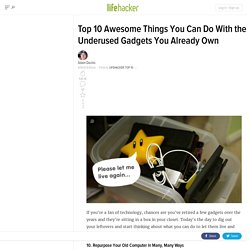 The back of the computer will lose power, and a few times it has blue-screened on me. I got a new computer, but I thought "I'm sure there's something I can do with this one... " With all the tech issues it's having- anyone have a good suggestion? Since we're on that topic, I also have an old laptop. There's no touch screen, the driver for wireless refuses to load onto it, and the screen is way too large to use it for another screen on my main computer.
---