List
Hack Your Gadgets and Void Your Warranties This Weekend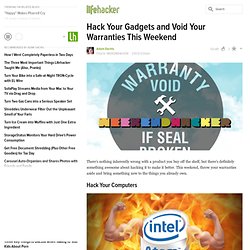 There's nothing inherently wrong with a product you buy off the shelf, but there's definitely something awesome about hacking it to make it better. This weekend, throw your warranties aside and bring something new to the things you already own. Hack Your Computers Your computers are prime targets for a few great upgrades. For starters, you can boost your speed by overclocking your processor .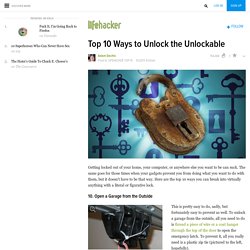 Getting locked out of your home, your computer, or anywhere else you want to be can suck. The same goes for those times when your gadgets prevent you from doing what you want to do with them, but it doesn't have to be that way. Here are the top 10 ways you can break into virtually anything with a literal or figurative lock. 10.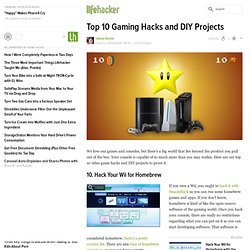 We love our games and consoles, but there's a big world that lies beyond the product you pull out of the box. Your console is capable of so much more than you may realize. Here are our top 10 video game hacks and DIY projects to prove it. 10. Hack Your Wii for Homebrew If you own a Wii, you ought to hack it with SmashStack so you can run some homebrew games and apps.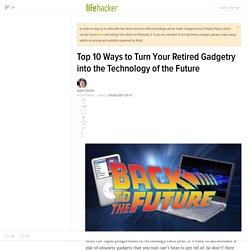 With the rapid progression of technology each year, it's easy to accumulate a pile of obsolete gadgets that you just can't bear to get rid of. So don't! Here are our top 10 ways you can take the retired gadgets you've already got and turn them into something that has a solid place in the future. 10.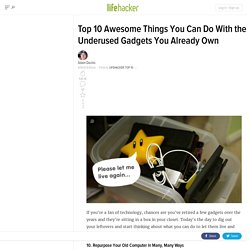 If you're a fan of technology, chances are you've retired a few gadgets over the years and they're sitting in a box in your closet. Today's the day to dig out your leftovers and start thinking about what you can do to let them live and breathe again. Here are ten of our favorite ideas to get you started. 10. Repurpose Your Old Computer in Many, Many Ways Repurposing an old computer is awesome but it's obvious, so let's get this one out of the way first.