Lifehacker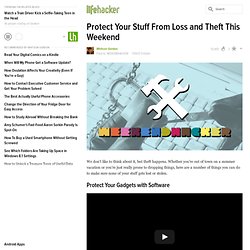 Protect Your Stuff From Loss and Theft This Weekend
We don't like to think about it, but theft happens.
Welcome, Lifehackers, to our next Hacker Challenge! Each week, we issue a new challenge.
Hacker Challenge: Hack Your Headphones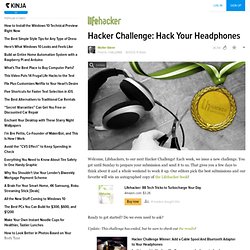 Lifehacker's been around for a few years, so every week we like to round up some of our favorite posts—new and old—on a particular topic. Here's a look back at our most popular top 10 lists of 2011. Top 10 Gaming Hacks and DIY Projects We love our games and consoles, but there's a big world that lies beyond the product you pull out of the box.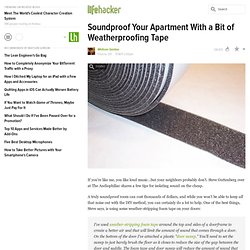 Soundproof Your Apartment With a Bit of Weatherproofing Tape
If you're like me, you like loud music...but your neighbors probably don't. Steve Guttenberg over at The Audiophiliac shares a few tips for isolating sound on the cheap. A truly soundproof room can cost thousands of dollars, and while you won't be able to keep all that noise out with the DIY method, you can certainly do a lot to help. One of the best things, Steve says, is using some weather-stripping foam tape on your doors: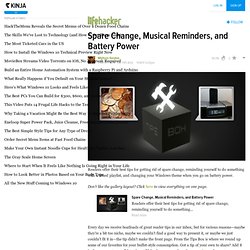 Readers offer their best tips for getting rid of spare change, reminding yourself to do something with a timed playlist, and changing your Windows theme when you go on battery power. Don't like the gallery layout? Click here to view everything on one page. Every day we receive boatloads of great reader tips in our inbox, but for various reasons—maybe they're a bit too niche, maybe we couldn't find a good way to present it, or maybe we just couldn't fit it in—the tip didn't make the front page. From the Tips Box is where we round up some of our favorites for your buffet-style consumption. Got a tip of your own to share?
Spare Change, Musical Reminders, and Battery Power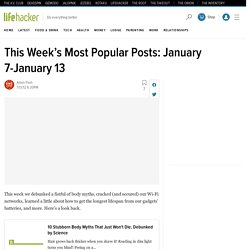 This Week's Most Popular Posts: January 7-January 13
This week we debunked a fistful of body myths, cracked (and secured) our Wi-Fi networks, learned a little about how to get the longest lifespan from our gadgets' batteries, and more. Here's a look back. 10 Stubborn Body Myths That Just Won't Die, Debunked by Science
Pimp Your Facebook: How to Create a Badass Timeline Banner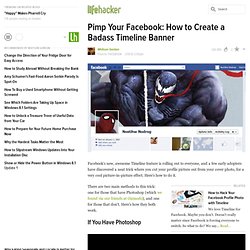 Facebook's new, awesome Timeline feature is rolling out to everyone, and a few early adopters have discovered a neat trick where you cut your profile picture out from your cover photo, for a very cool picture-in-picture effect. Here's how to do it. There are two main methods to this trick: one for those that have Photoshop (which we found via our friends at Gizmodo ), and one for those that don't. Here's how they both work.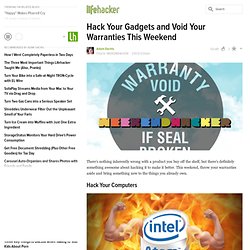 Hack Your Gadgets and Void Your Warranties This Weekend
There's nothing inherently wrong with a product you buy off the shelf, but there's definitely something awesome about hacking it to make it better. This weekend, throw your warranties aside and bring something new to the things you already own. Hack Your Computers Your computers are prime targets for a few great upgrades. For starters, you can boost your speed by overclocking your processor .
Turns Out Being Drunk and Sleepy Can Do Wonders for Your Creativity
Common sense (and your irrational compulsion to, you know, keep your job) says drinking at work—or working when you're groggy—are bad news. But as Wired's Jonah Lehrer points out, recent studies reveal that being sleeping and/or drunk is great for creativity . Here's why: When you're solving problems, your brain is built to shine a spotlight on what it considers relevant, ignoring ideas and connections that aren't likely solutions to your problem. This is a good thing, since without that focus your mind would be flooded with loads of irrelevant information when attempting to solve a simple task, and for what Lehrer calls standard analytic problems, that kind of focus is essential. When it comes to creative problem solving, however, your brain does better without that focus.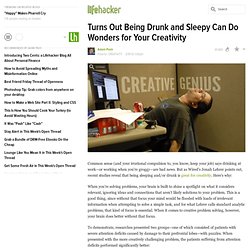 This impressive, large shelving unit with built-in desk is something you can make yourself out of plumbing pipes and pine planks for about $200. Morgan Satterfield of The Brick House offers step-by-step directions for creating this massive storage unit. The unit measures 8'8" by roughly 7'6" and 11 1/4" deep.
Build a Beautiful Shelving Unit and Desk Out of Pipes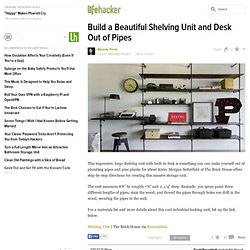 When should you use "who" or "whom"? "Which" or "that"? You don't need to be a grammar geek or a professional writer to want to know. This list of common grammar mistakes can help you strengthen your writing for work and in your personal correspondence.
Improve Your Writing by Avoiding These Twenty Common Grammar Mistakes Almost Everyone Makes
Most cameraphones or point-and-shoots don't offer manual control, so you have to rely on the camera's sensors to determine the best combination of aperture, shutter speed, and focus. These sensors aren't the smartest things in the world, though, and if your picture doesn't turn out how you'd like—or if you're just going for something a little more artistic—it's possible to get the photo to turn out exactly as you want by "fooling" the camera. Here's how.
Get Cool Camera Effects from Your Phone and Point-and-Shoot Camera Without Apps or Manual Controls
If your mouth feels like it catches fire when you taste even mildly hot foods, don't worry. These tolerance-building tips from Serious Eats may open up a world of new and vibrant flavors for even the biggest spice wimps (like myself). One technique to try is to substitute whole chiles instead of ground spices in recipes. Buy fresh whole chiles and de-seed them and remove the inner ribs, using gloves while doing so:
Build Up Your Spice Tolerance with These Strategies
Keep Practicing After Perfecting a Task to Boost Efficiency
It's common that once we perfect a task with practice, we tend to stop trying at it. However, a new study from the University of Colorado Boulder suggests that even after learning a task, whether it's tennis or playing music, continued practice leads to more efficient behavior. We all know the mantra of "practice makes perfect," but chances are, once you've really nailed a task, you probably start to move onto new ones. For instance, if you get your backhand down in tennis, you'll move onto another skill. The authors of the study suspect that continued practice leads to both more efficient movements and thinking.
Mod Your Coffee Machine to Operate by Remote Control and Start Your Brew Before Getting Out of Bed
We talk about coffee a lot at Lifehacker, and most of us are pretty serious about making sure we get at least one cup in the morning. If you're serious about your morning brew—enough that you want to make sure it's on the way as soon as you wake in the morning (and you're a little on the lazy side), this DIY remote-operated coffee machine is the perfect hack for you. Yes, we realize that it's still drip coffee, and yes, we realize that you have to be pretty lazy to not just get up and walk over to the coffee machine and press a button, but Instructables user biochemtronics built this remote controlled coffee machine for his wife, whose machine broke, likes her coffee freshly brewed, and gets up at different times on different mornings, so a new machine with a timer wouldn't do.
Best Movie Recommendation Service?
Remains of the Day: Download a Copy of The Pirate Bay
Perform Nearly Any Windows Task with One Keystroke
What You Should Do with Your Extra Money
Ask and Answer Questions About Getting Rid of Old Junk
Upgrade a Wall Outlet to Charge USB Devices
The Best Times to Buy Infographic Shows You All the Savings by Month and Day
How to Be an Audiophile on the Cheap
Boost Your Working Memory to Make Time Fly
The Snowball Sunset Desktop
Mind Hacks News, Videos, Reviews and Gossip - Lifehacker
Mind Hacks News, Videos, Reviews and Gossip - Lifehacker
Mindhacks News, Videos, Reviews and Gossip - Lifehacker
Mind Hacks News, Videos, Reviews and Gossip - Lifehacker
Mind Hacks News, Videos, Reviews and Gossip - Lifehacker
Mind Hacks News, Videos, Reviews and Gossip - Lifehacker
Mind Hacks News, Videos, Reviews and Gossip - Lifehacker
Mind Hacks News, Videos, Reviews and Gossip - Lifehacker
The Aged Paper Home Screen
WakeupDialer Calls You with a Wake-Up Call To Make Sure You Get Out of Bed
Master Your Browser's Tabs with These Tricks and Extensions
How to Promote Yourself (Without Being Sleazy)
Gather These Twenty-Five Documents You Need Before You Die
Take Your Desktop Around the World with These Wallpapers
Make Your Own Screen Protector Quickly and Cheaply with Adhesive Vinyl and an Xacto Knife
Pro Tips for Regular People: Five Photography Tricks Anyone Who Owns a Camera Should Know
Learn the Basics of Coding
How to Build a Hidden Home Theater PC Inside Your Entertainment Center
Save kitchen cabinet space with collapsible items
Top 10 Magnet Hacks
DIY Magnetic Spice Rack Doubles Your Shelf Space
DIY Dry Erase Tabletop Turns Any Table Into a Polished Whiteboard
Downloads News, Videos, Reviews and Gossip - Lifehacker
Downloads News, Videos, Reviews and Gossip - Lifehacker
Downloads News, Videos, Reviews and Gossip - Lifehacker
The Nerdist Way: A Self-Help Guide For Me (and Probably You)
Belvedere Updates, Can Now Automate Your Folders and Automatically Send Files to iTunes
Always Find Your Way When You're Lost by Facing North
Hopper Is a Simple Tool for Temporarily Storing Files, Links, and Text
Top 10 Ways to Break Into and Out of Almost Anything
Geek to Live: Securely track your passwords
Downloads News, Videos, Reviews and Gossip - Lifehacker
This Is the Best of Lifehacker 2011
The Warm Attic Workspace
Featured Desktop News, Videos, Reviews and Gossip - Lifehacker
Get a Free Car to Drive on Your Next Road Trip
Most Popular Firefox Extensions and Posts of 2011
Most Popular DIY Projects of 2011
Customize Your Own Killer "Enigma" Desktop
Web Hosting News, Videos, Reviews and Gossip - Lifehacker
Eat Like a Foodie at Home, Without Breaking Your Budget
A Month-by-Month Guide to Grocery Sales
You Don't Need All Those Chargers: How to Consolidate Your Extra Bricks and Still Power Your Gadgets
Keep Your Home Clean in 20 Minutes a Day for 30 Days