Learn
Whether you are content to make filmmaking a part time hobby or you aim to make it your career someday, it is important to make the most of your craft. That means taking the time to set up each scene carefully, staging your subjects properly and paying attention to lighting, set design and other elements. In order to reduce your costs and increase your overall satisfaction it is important to make the most of every shot. No one likes to shoot the same scene over and over again, so it is important to learn the techniques you will need to make reshoots a relative rarity. Getting Close to Your Subject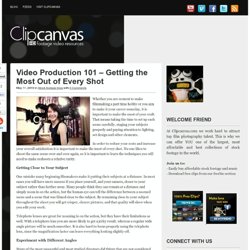 Video Production 101 – Getting the Most Out of Every Shot | Clipcanvas.com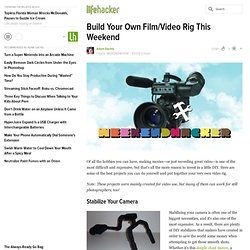 Of all the hobbies you can have, making movies—or just recording great video—is one of the most difficult and expensive, but that's all the more reason to invest in a little DIY. Here are some of the best projects you can do yourself and put together your very own video rig. Note: These projects were mainly created for video use, but many of them can work for still photographers, too! Stabilize Your Camera Stabilizing your camera is often one of the biggest necessities, and it's also one of the most expensive.
Build Your Own Film/Video Rig This Weekend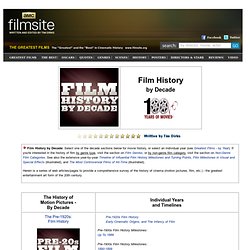 Pre-1920s Film History: Early Cinematic Origins, and The Infancy of Film Pre-1900s Film History Milestones: Up To 1889 Pre-1900s Film History Milestones: 1890-1899 1900s Film History Milestones: 1900 , 1901 , 1902 , 1903 , 1904 , 1905 , 1906 , 1907 , 1908 , 1909 1910s Film History Milestones: 1910 , 1911 , 1912 , 1913 , 1914 , 1915 , 1916 , 1917 , 1918 , 1919 The Greatest Films of the Pre-1920s: 1902 | 1903 | 1914 | 1915 | 1916 | 1919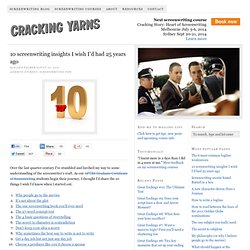 Over the last quarter century I've stumbled and lurched my way to some understanding of the screenwriter's craft. As our AFTRS Graduate Certificate of Screenwriting students begin their journey, I thought I'd share the 10 things I wish I'd know when I started out. 1. Why people go to the movies If you're making films to be viewed by the cinema-going public, it would seem pretty obvious that you should seek to understand why people go the movies, wouldn't it? Not to me.
Over the course of 45 years in the film business, Francis Ford Coppola has refined a singular code of ethics that govern his filmmaking. There are three rules: 1) Write and direct original screenplays, 2) make them with the most modern technology available, and 3) self-finance them. B ut Coppola didn't develop this formula overnight. Though he found Hollywood success at the young age of 30, he admits that the early "Godfather" fame pulled him off course from his dream of writing and directing personal stories.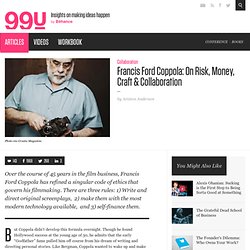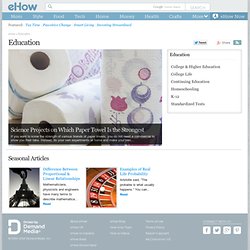 Preparing for Grad School Getting into graduate school is a competitive process and there are many students competing for a limited amount of spots in each program. The more prepared you are, the better chance you will have of being accepted into your desired school or program. Understanding the GMAT The Graduate Management Admission Test (GMAT) is an important factor for many college acceptance committees when looking at potential students for their MBA and other business related programs. Let eHow help you prepare with this guide on the GMAT. Survive College You've finally graduated high school and now you're ready for college. It's time to pick your own classes, experience dorm life, finals and all-nighters.
The Basics of How to Read a Film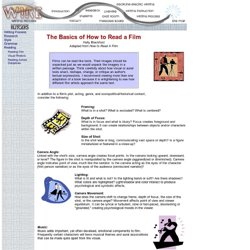 Camera Angle: Linked with the shot's size, camera angle creates focal points. Is the camera looking upward, downward, or level? The figure in the shot is manipulated by the camera angle (aggrandized or diminished). Camera angle indicates point of view, much like the narrator. Is the camera acting as the eyes of the character (first person narration) or as the eyes of the audience (omniscient narrator)?
Teaching Film Analysis
How To Make A Short Film For YouTube (Filmmaking: Directing & Producing)
This all began for me in about 1969, when I started teaching a film class in the University of Chicago's Fine Arts program. I knew a Chicago film critic, teacher and booker named John West, who lived in a wondrous apartment filled with film prints, projectors, books, posters and stills. "You know how football coaches use a stop-action 16mm projector to study game films?" he asked me.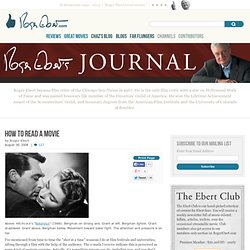 How to read a movie
Edit Edited by Tim Singer, Tom Viren, Jack Herrick, Imperatrix and 24 others This guide will help you introduce yourself to the vast and ever changing world of cinema, and provide you with tips to becoming an expert of all things cinematic!
How to Become a Film Buff