Learn To Play Guitar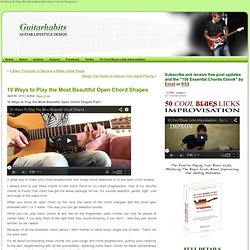 10 Ways to Play the Most Beautiful Open Chord Shapes Part I A great way to make your chord progressions and songs sound awesome is to use open chord shapes. I always love to use these chords to add some flavor to my chord progressions. One of my favorite chords is Fsus2.That chord has got the whole package for me. It's sounds beautiful, gentle, tight, cool and rough at the same time. When you move an open chord up the neck the name of the chord changes and the chord gets extended with 1 or 2 notes.
Donations keep the site free for those that can't afford to donate! Latest Lesson Updates! TOTAL FREE LESSONS ON THIS SITE: 680 :) 14-01-14 • More cool Uke strumming, the 2 & 4 Hit. 12-01-14 • Everyone loves The Beatles, Lucy In The Sky With Diamonds 07-01-14 • Ukulele Shuffle Strumming to get your groove on 05-01-14 • Ever popular tune, Your Song by Elton John! 01-01-14 • Another bunch of Uke Open Chords for you! 31-12-13 • All time classic, In My Life by The Beatles 27-12-13 • More Uke fun, Open Chords on the Ukulele 24-12-13 • Vintage classic from The King, Love Me Tender!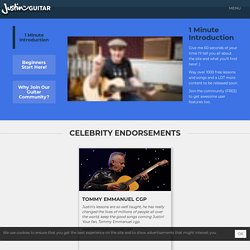 Photo by John W. Tuggle If I have to name two things that took my guitar playing to the next level I would say music theory and memorizing the fingerboard.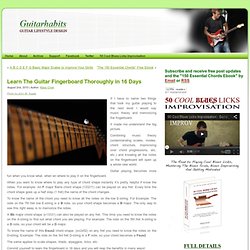 The following free guitar lessons have been created with the beginner in mind. It is suggested that new guitarists begin at lesson one, spending at least one week learning the exercises and songs in that lesson before moving on. Learning to relax while playing guitar will help immeasurably, so be sure to have fun! Learning Guitar - Guitar Lesson One Have you always wanted to play guitar, but never got around to actually getting started? Here is reason to begin... a free online guitar lesson, which is essentially the same lesson I teach all new students.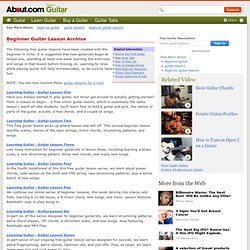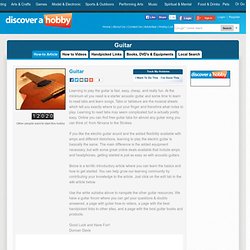 Learn How to Play Guitar Online Free Guitar Lessons, Free Electric Guitar Tab, Guitar Forum, Beginner
Intro How many times have you stood in front of the mirror, imaginary guitar around your neck, pretending to be rock star? If playing the guitar is what you enjoy, then stop playing around with an imaginary one, and pick up a real guitar instead.
Rhythm and Timing Video Tutorial