Hardware
Get flash to fully experience Pearltrees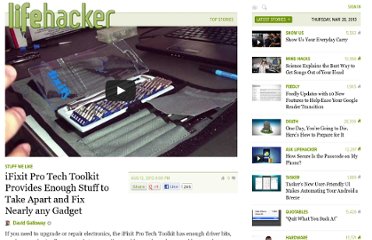 If you need to upgrade or repair electronics, the iFixit Pro Tech Toolkit has enough driver bits, spudgers, and miscellaneous tools to open, disassemble, repair, and reassemble your phone, laptop, or most other electronic product. The heart of the set is the 54 Bit Driver Kit. I really liked that the magnetic bit driver came with an extension that you can use to give the driver a t-handle for extra torque.
With great hardware comes great opportunity. Thanks to the internet and clever hacking communities, there are plenty of ways to boost the capabilities of your everyday gadgets. Some save you money, some add features, and some are the entire package. Here are our top 10 favorite hardware boosting hacks. Note: Pretty much every one of these hacks involves installing custom firmware or at least making significant alterations to the software your hardware needs to run.
Dear Lifehacker, Everything is going wireless nowadays. Optical drives are being removed from computers in favor of getting content from the internet, cellular data is becoming fast enough to replace wired connections for the average person, and there are few peripherals I really use anymore. Am I missing out by ignoring the wired world? What's still worth plugging in?
Mashable - "This unusual and useful box can silently notify you of just about anything that happens on the Internet... you'll be surprised at all it can do " CNET - "One box and 65 LEDs make getting your e-mail, smartphone, and social-networking alerts a whole lot more fun with a whole lot less noise." ANDROID RUNDOWN - "The incredible amount of uses for this device are what really make it one of the best KickStarter projects I have seen" . Designboom - "The L8 smartlight serves an a illuminated notification system and customizable light display..."