Google
Google+ Hangouts in Gmail Means Nine-way Video Chats. 20 Google Search Shortcuts to Hone Your Google-Fu. Google Unveils Ultrafast Web Service. - Google unveiled an ultrafast Web service along with an Internet television subscription. - The service offers one-gigabyte per second speeds -- about 100 times faster than currently available..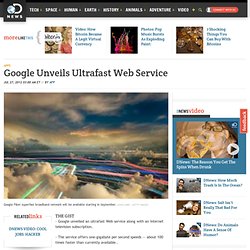 Google on Thursday unveiled an ultrafast Web service along with an Internet television subscription in the Kansas City area as part of a pilot project to boost broadband speeds. The Google Fiber superfast broadband network will be available starting in September, with one-gigabyte per second speeds -- about 100 times faster than most current Internet subscriptions. Google shows ISPs how to build a superfast network | Internet & Media. Google is showing the cable companies and telecommunications providers how a broadband network should be built.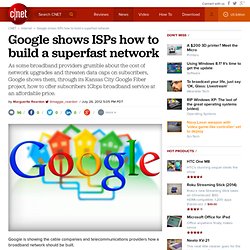 On Thursday, the company took the wraps off its new Google Fiber and Google Fiber TV services, which through a fiber connection directly to the home, delivers broadband speeds of 1Gbps on both the upload and download links. It also announced its new Google Fiber TV service that offers a vast array of high quality HD video content broadcast to TVs and is also available on demand. Google Wallet goes cloud; supports all credit, debit cards | Mobile. Google Wallet is likely on a more mainstream path to wider adoption with U.S. consumers as the system is moving to the cloud, meaning it should be able to accept all major credit and debit cards.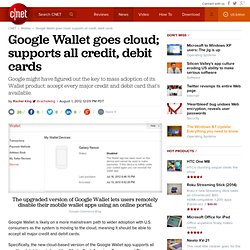 Specifically, the new cloud-based version of the Google Wallet app supports all credit and debit cards from Visa, MasterCard, American Express, and Discover. Robin Dua, head of product management for the Google Wallet team, explained in a blog post that consumers can use any card when shopping in-store or online with Google Wallet. To support all credit and debit cards, we changed our technical approach to storing payment cards. The Google Wallet app now stores your payment cards on highly secure Google servers, instead of in the secure storage area on your phone. A wallet ID (virtual card number) is stored in the secure storage area of the phone, and this is used to facilitate transactions at the point of sale.
Home. DeadMouse: Surf the web with just your keyboard. Ditch your mouse.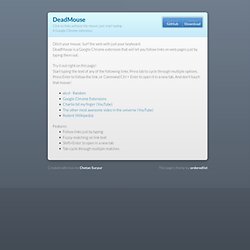 Surf the web with just your keyboard. DeadMouse is a Google Chrome extension that will let you follow links on web pages just by typing them out. Try it out right on this page! The Best Google Features You're Probably Not Using. We certainly couldn't cover every Google service under the sun, what are some of your favorite unsung Google apps and features?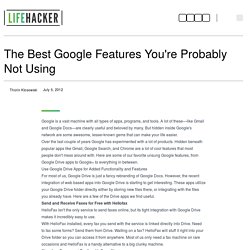 Yeah, lots of love for Latitude in here—Clearly I missed that one! I might use HelloFax. I actually burst out with "you still use fax machines?! " on a phone call with a vendor last week. Haha, yeah, I think I've use a fax machine about once a year, which is why HelloFax is actually really handy to have around. Google Search 3T. Top 10 Obscure Google Search Tricks.
Official Google Blog. Entertainment is supposed to be fun.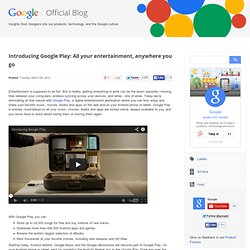 But in reality, getting everything to work can be the exact opposite—moving files between your computers, endless syncing across your devices, and wires…lots of wires. Today we're eliminating all that hassle with Google Play, a digital entertainment destination where you can find, enjoy and share your favorite music, movies, books and apps on the web and on your Android phone or tablet. 100+ Google Tricks « Blog de ardelean. 100+ Google Tricks That Will Save You Time in School – Eternal Code.
[via onlinecolleges.net] With classes, homework, and projects–not to mention your social life–time is truly at a premium for you, so why not latch onto the wide world that Google has to offer?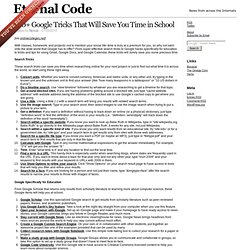 From super-effective search tricks to Google hacks specifically for education to tricks and tips for using Gmail, Google Docs, and Google Calendar, these tricks will surely save you some precious time. Google tracks you. We don't. An illustrated guide. Keyboard shortcuts - Gmail Help. Keyboard shortcuts help you save time by allowing you to never take your hands off the keyboard to use the mouse.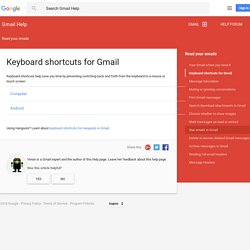 You'll need a Standard 101/102-Key or Natural PS/2 Keyboard to use the shortcuts. Tip: Press ? Gmail Tips, Tricks and Secrets. Using Gmail is simple, but Gmail is also powerful. Want to make sure you make the best use of your Gmail account? Here are my tips, tricks, secrets and howtos for getting the most efficiency, comfort, power and fun out of Gmail. Optimize Google Search Results For Your Name With BrandYourself. The Internet is an unforgiving place – it never forgets.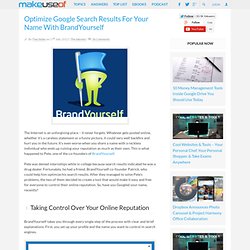 Whatever gets posted online, whether it's a careless statement or a funny picture, it could very well backfire and hurt you in the future. It's even worse when you share a name with a reckless individual who ends up ruining your reputation as much as their own. Try Out Google's Chromium OS On Your Laptop Or Netbook With Flow.
The only problem is that Google's official builds suffer from poor hardware support, driver issues and are unlikely to work unless you're using a brand new netbook. Enter Flow, an exciting Chromium OS build with much improved compatibility allowing you to sample your first taste of a lightning-fast web-reliant operating system, all from the comfort of a 2GB USB flash drive. Mimicking Google's popular Chrome web browser, the Google Chromium OS contains no applications or programs and instead uses web-based services such as Google Documents and Picnik. This is all part of Google's plan to essentially turn their web browser into an operating system, and by doing so they've managed to drastically speed up the whole process of "getting online".
Flow is a third-party build by an enthusiast called Hexxeh that provides a straight-forward means of test driving this new platform. 10 ways to use Google Plus in the classroom | The Theatre Professor. Circles Obviously you are going to want to create a circle for your class and guide them through making a circle for the class as well. But as cool as that is, it doesn't stop there. You can also make a circle for announcements and important links and drop any posts in that you know you may use every semester. Then you just find it in the stream for that circle and repost to your current class when you are ready. You can also create circles for students by category. Really Learn to Use Google Plus for Business. Top 10 Clever Tricks Built Right Into Gmail. One possible issue with google contacts and iOS is that google sync does not support contact groups. They're supported on android, but not iOS, for some reason. Note that this is a strange google limitation and not an iOS one.
---