Fiddle/Violin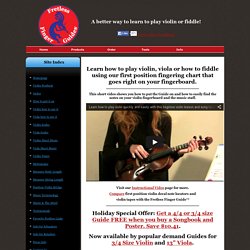 Learn how to play violin with Fretless Finger Guides®
This short video shows you how to put the Guide on and how to easily find the notes on your violin fingerboard and the music staff. Visit our Instructional Video page for more. Compare first position violin decal note locators and violin tapes with the Fretless Finger Guide™ Learn how to play violin or viola with the best fingerboard position marker available. See how easy it is to put the Guide on a violin or viola. See how easy it is to use the Fretless Finger Guide™.
Watch FREE Videos Learn to play the violin through detailed, in depth violin videos. Violin Lab offers a complete method of beginning online violin lessons covering all the basics of learning to play violin. In time, you will learn violin vibrato and other intermediate violin skills from our technique series. Ask questions and even upload videos of yourself playing to receive feedback from our experts and other members.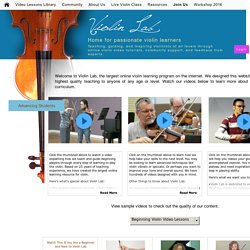 Welcome to the site where you can learn to play violin for free. Never touched a violin before? START HERELooking for a new instrument, bow or accessories?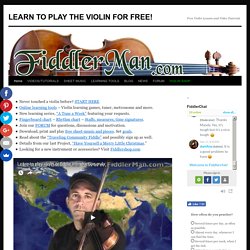 Learn Beginners Violin Online Free - Video 1 - Play Your First Tune!
Beginner Irish Fiddle Lesson - No.1 of 6 FREE LESSONS from www.oaim.ie with Majella Bartley
Learn To Play Irish Fiddle - Lesson Two: Reels, Jigs, & Gavottes
Fiddle Lessons How to Play the Shuffle Stroke With Gemma de Ragon
Folk of the Wood Online Acoustic Music Lessons Mandolin, Octave Mandolin, Mandola, Guitar, Dobro, Fiddle, Violin, Dulcimer, Bass Free Lessons
Old-Time Fiddle Lesson-Sugar Foot Rag (Slow bowing)