Computer
Wood Carved Computer Case. I am new to case modding but thought I would give it a go.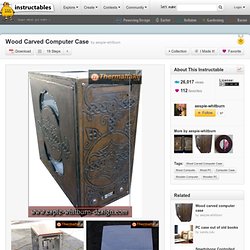 Instead of using real wood, I am using MDF which you can usually buy from your hardware store. I also want to thank Thermaltake for sponsoring me with a awesome PSU (power supply unit)Day 1 I am using the metal frame of an old case I have, and plan to fix the MDF to the frame (haven't quite worked out the details of that yet). Weekend Hacker: Make A Secret Encrypted Drive | | Tinkernut.comTinkernut. DIY Interactive Multitouch Display. Eye-Controlled Computer for $300. The enterprising mind of 17 year old Luis Cruz has built a low cost, eye-controlled Human-Computer Interface (HCI).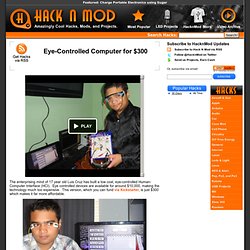 Eye controlled devices are available for around $10,000, making the technology much too expensive. This version, which you can fund via Kickstarter, is just $300 which makes it far more affordable. An inexpensive pair of glasses houses electrodes which measure tiny electrical signals generated by the eyes. These signals are then converted into horizontal and vertical movements, allowing the user to select letters on a screen. Night School News, Videos, Reviews and Gossip - Lifehacker. Turn a Broken Down Laptop into a Desktop PC-inside-a-Keyboard. Hack your Workspace with The Epic Compudesk.
To build your own, custom PC-in-a-desk, follow this all-in-one tutorial for a fantastic workspace mod.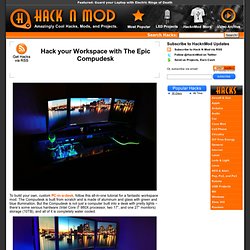 The Compudesk is built from scratch and is made of aluminum and glass with green and blue illumination. But the Compudesk is not just a computer built into a desk with pretty lights – there's some serious hardware (Intel Core i7 980X processor, two 17", and one 27" monitors) storage (10TB), and all of it is completely water cooled. DIY Computer Rotary Knob Controller. 4 Things Computer-illiterate Users Should Know When Running Windows. Microsoft Windows is a very easy operating system to use, and the latest versions certainly have taken security seriously.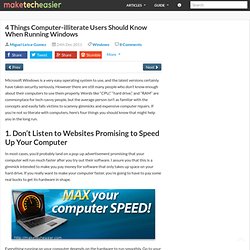 However there are still many people who don't know enough about their computers to use them properly. Words like "CPU," "hard drive," and "RAM" are commonplace for tech-savvy people, but the average person isn't as familiar with the concepts and easily falls victims to scammy gimmicks and expensive computer repairs. If you're not so literate with computers, here's four things you should know that might help you in the long run. In most cases, you'd probably land on a pop-up advertisement promising that your computer will run much faster after you try out their software. See-Through Desktop PC and Gaming Desk. This article was submitted by a Hack N Mod reader like you.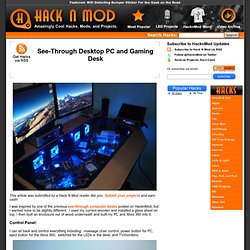 Submit your projects and earn cash! I was inspired by one of the previous see-through computer desks posted on HacknMod, but I wanted mine to be slightly different. I used my current wooden and installed a glass sheet on top. Geek to Live: Create your own virtual private network with Hamachi. Faster browsing with RAM disks. Turn Your Home Router Into a Super-Powered Router with DD-WRT. Wireless is everywhere and routers are the force that makes it happen, so why not supercharge yours to take proper advantage of it?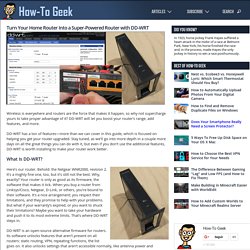 DD-WRT will let you boost your router's range, add features, and more. DD-WRT has a ton of features—more than we can cover in this guide, which is focused on helping you get your router upgraded. Stay tuned, as we'll go into more depth in a couple more days on all the great things you can do with it, but even if you don't use the additional features, DD-WRT is worth installing to make your router work better. Download the How-To Geek Photoshop CS5 Cheat Sheet. When there's a shortcut or trick that can help you save time, it's our mission to pass that help along to you.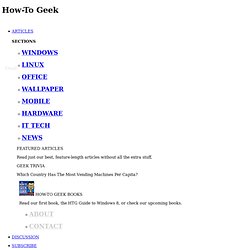 Our new cheat sheets are a collection of exactly that, ready for your download and great for printing. Here's the very first one, for Photoshop. The Photoshop CS5 Cheat Sheet is a great tool for all Photoshop users, with keyboard shortcuts, graphs and graphics not only good for CS5, but also valid for most versions of Photoshop. Check it out! The Photoshop CS5 How To Geek Cheat Sheet. Security Audit Kit in a Mouse. How to Make a Startup Key.
---