Scarf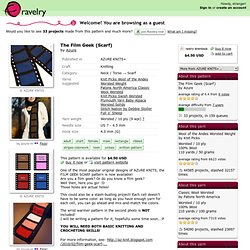 One of the most popular original designs of AZURE KNITS, the FILM GEEK SCARF pattern is now available! Are you a film geek? Or do you know a film geek? Well then, here you go! :D Those holes are actual holes!
The Film Geek (Scarf) pattern by Azure
Bonjour, visiteur ! Si tu aimes cet article, <vote pour le blog et abonnes-toi au flux RSS pour être tenu informé des mises à jour. Merci !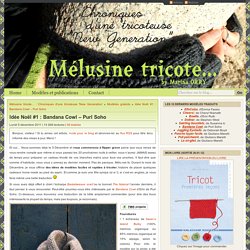 Ce modèle est vraiment très simple et rapide à réaliser, parfait pour les débutantes... Laine utilisée : Aviso de chez Phildar N° d'aiguille : 5,5 - aiguilles circulaires ou doubles pointes pour tricoter en rond Échantillon : 15 mailles pour 10 cm (Pour indication et pour vous aider à choisir un fil : cette laine se tricote normalement avec des aiguilles N°5 et annonce un échantillon de en jersey de 17 mailles pour 10 cm) Dimensions du col : 140 cm de circonférence x 25 cm de haut
Les hommes aussi ont froid - Les chiffonneries du chat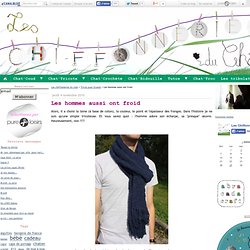 Alors, il a choisi la laine (à base de coton), la couleur, le point et l'épaisseur des franges. Dans l'histoire je ne suis qu'une simple tricoteuse. Et vous savez quoi : l'homme adore son écharpe, sa "presque" œuvre. Heureusement, non ?!!! Laine Aviso de chez Phildar, Point damier 4 x 4, Aiguille n°6 (en plastique, grrrr...)5 pelotes, 32 mailles pour une écharpe de 21 cm x 2,20 m (franges de 11 cm x 4 brins comprises) : vous savez tout !!
Troc # 2 : L'aller après le retour - Les chiffonneries du chat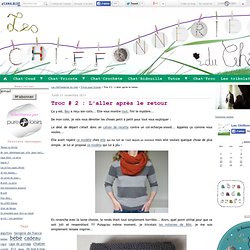 Ça y est, Bou a reçu son colis... Elle vous montre tout, fini le mystère... De mon coté, je vais vous dévoiler les choses petit à petit pour tout vous expliquer : Le deal de départ c'était donc un cahier de recette contre un col-écharpe-snood... Appelez ça comme vous voulez... Elle avait repéré ce modèle chez elle qui me fait de l'oeil depuis un moment mais elle voulais quelque chose de plus simple.
This winter New York City streets are filled with people who have learned the secret of keeping warm. They are all wrapped up in the big soft folds of the oversized cowl. A long loop that you twist and double around your neck, it's definitely a glamorous touch in a what can otherwise be pretty frumpy season.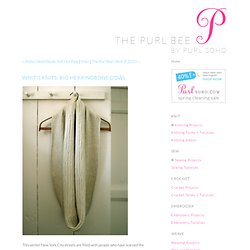 SALE Was $39 - now only $ 34! Hand knitted in thick warm wool in a cable pattern that forms a row of hearts, this is a great Valentine gift. It buttons up in the front with two buttons and I have added two blind-buttons for added interest. I have picked different buttons for a whimsy look.I used thick Icelandic wool - know for is warmth and light weight. The cowl measures 27" /68 cm long when unbuttoned. it's 6.5" /16 cm wide. I recommend gentle had wash for this cowl, but if you have a good wool cycle on your washing machine it's fine.
Valentine cowl by elineof on Etsy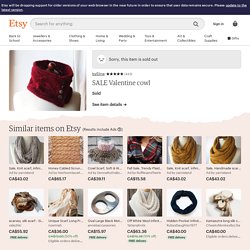 Milanese Loop pattern by tante ehm
Speedy Cabled Cowl pattern by Paulina Chin
Une écharpe torsade à tricoter
Un snood à tricoter