Twitter
Hilarious Social Media Venn Diagram | Twitter Tools, Tips, and Strategies for Twitter Success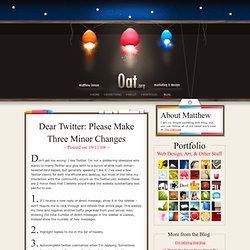 Dear Twitter: Please Make Three Minor Changes - Matthew Inman
Don't get me wrong: I like Twitter. I'm not a slobbering obsessive who wants to marry Twitter and give birth to a bunch of little matt-inman-tweetlet-bird-babies, but generally speaking I like it. I've used a few Twitter clients for both the iPhone and desktop, but most of the time my interaction with the community occurs on the twitter.com website. These are 3 minor fixes that I believe would make the website substantially less painful to use. 1.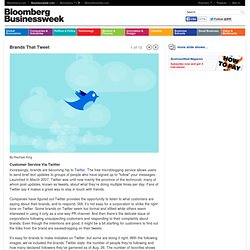 By Rachael King Increasingly, brands are becoming hip to Twitter. The free microblogging service allows users to send brief text updates to groups of people who have signed up to "follow" your messages.
Customer Service Via Twitter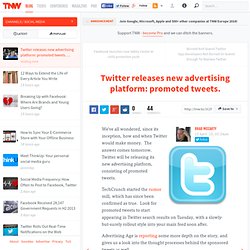 Twitter releases new advertising platform: promoted tweets.
We've all wondered, since its inception, how and when Twitter would make money. The answer comes tomorrow. Twitter will be releasing its new advertising platform, consisting of promoted tweets. TechCrunch started the rumor mill, which has since been confirmed as true. Look for promoted tweets to start appearing in Twitter search results on Tuesday, with a slowly-but-surely rollout style into your main feed soon after.
Josh Groban Sings Kanye West Tweets
Selon une étude parue mi-décembre, 90% des étudiants en journalisme seraient utilisateurs de Twitter. D »autres articles ici et là (souvent écrits par des membres de la profession) voudraient nous faire croire que l »outil est uniquement l »apanage des détenteurs de la carte de presse et des communicants. Le fait est qu »il n »y a pas d »état des lieux officiel sur l »utilisation de Twitter en France : l »entreprise communique très peu de chiffres, encore moins sur ce qu »il se passe en dehors des Etats-Unis.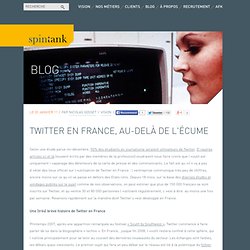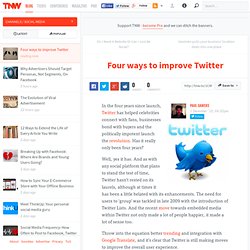 In the four years since launch, Twitter has helped celebrities connect with fans, businesses bond with buyers and the politically impotent launch the revolution. Has it really only been four years? Well, yes it has. And as with any social platform that plans to stand the test of time, Twitter hasn't rested on its laurels, although at times it has been a little belated with its enhancements. The need for users to 'group' was tackled in late 2009 with the introduction of Twitter Lists.
Four ways to improve Twitter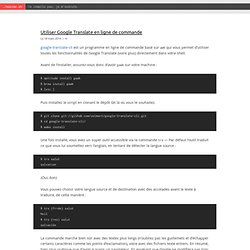 Twitter vient d'annoncer qu'il sortait une nouvelle fonction — chose qui n'était pas arrivé depuis un bout de temps, on doit l'avouer. Il s'agit des timelines personnalisées1, une nouveauté technologique, certes mais surtout idéologique qui va permettre à Twitter de résoudre pas mal de ses problèmes de monétisation. Qu'est-ce qu'une timeline personnalisée ? C'est une timeline que vous pouvez créer à l'image des listes actuelles, sauf qu'au lieu de sélectionner des comptes Twitter à afficher, vous ne sélectionnez que les tweets que vous voulez y voir figurer. Fonction pour le moment en déploiement sur Tweetdeck, elle devrait très vite faire son apparition dans les clients officiels et tiers (via l'API annoncée en même temps).
Burger King France 191010
Retour en détails sur les cinq usages professionnels de Twitter. Premier chapitre : la veille Comment s'abonner aux bons profils, ceux qui traitent des sujets qui vous intéressent ? Difficile, car il n'existe pas d'annuaire efficace.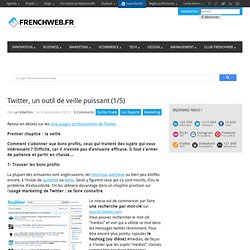 Anatomie d'un tweet | Antoine.Guiral.Info