To be stored
Photo by WBDX
2011 septembre « "Girl, you'll be a woman Soon"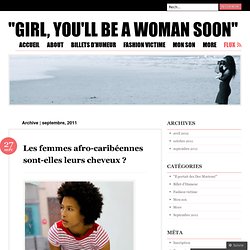 Broadcast Yourself.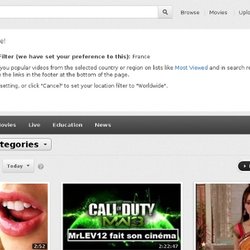 Welcome to YouTube!
Elan on Vimeo
Hadopi, la mauvaise réputation qui fait pschiittt ! - Peer2peer - ElectronLibre
ElectronLibre a été associé en tant qu'observateur, en amont, par l'Hadopi à la réalisation de l'enquête sur les usages d'internet, et les pratiques des internautes. La haute autorité publie son second volet qui servira de base à un baromètre semestriel. On se méprend souvent sur la majorité silencieuse, celle que l'on croit attachée aux libertés, mais qui laisse planer le doute sur ses intentions...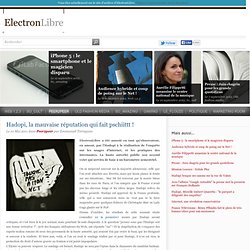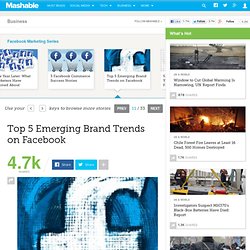 Field of Dreams may have popularized the notion that, "If you build it, they will come," but in today's Facebook generation, brands are beginning to go where the masses are, instead of relying on the masses to come to them.
Top 5 Emerging Brand Trends on Facebook
Telling Stories
Capturing the Atom Bomb on Film - Audio & Photos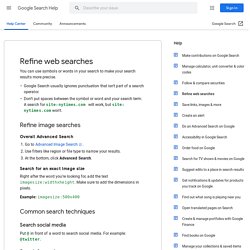 If you're not finding what you're searching for after using our basic search tips, try a search operator. Add these symbols or words to your search terms in the Google search box to gain more control over the results that you see. Don't worry about memorizing the operators - you can use the Advanced Search page to generate many of these searches. When you search using an operator, don't add any spaces between the operator and your query. A search for site:nytimes.com will work, but site: nytimes.com will not. Exceptions
De Roméo et Juliette à Chatroulette » Article » OWNI, Digital Journalism
La communication « sans corps » n'est pas propre à l'Internet, elle fait au contraire partie des relations sociales. Alain François analyse la place du corps dans les échanges en comparant des exemples emprunté à la littérature et au Net.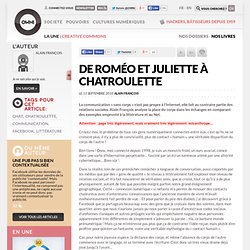 Les mécanismes séculaires de l'influence médiatique » Article » OWNI, Digital Journalism
Les "influenceurs" se prétendent les défricheurs-interprètes des nouveaux territoires du web.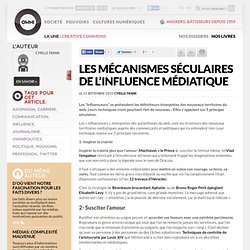 New York Business Networking - Biznik
Internet as a Medium /\ Public Relations of tomorrow - Created as my exercise site for my PR studies at McGill
Ras le buzz !
Citoyens ! Un pseudo bon baromètre de l'état du Social Media dans les entreprises dévoilé par eMarketer ce matin :
L'état de l'intégration du Social Media marketing dans les entreprises (eMarketer)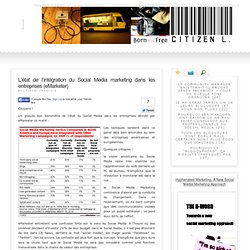 GLORIA FELDT | courageous leadership, powered women, heartfeldt politics
1) | La Gaîté Lyrique
Comment les agences vous laissent dans la matrice ? La Pilule Bleue et la Pilule Rouge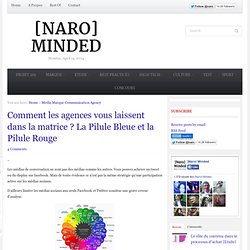 0inShareinShare0 Les médias de conversation ne sont pas des médias comme les autres. Vous pouvez acheter un tweet ou du display sur facebook.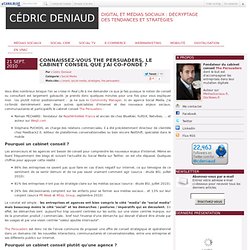 Connaissez-vous The Persuaders, le cabinet conseil que j'ai co-fondé ? - Social Media, Community Management, Social CRM, e-Reputation par Cédric Deniaud
Vous êtes nombreux lorsque l'on se croise In Real Life à me demander ce que je fais puisque la notion de conseil ou consultant est largement galvaudé. Je prends donc quelques minutes pour une fois pour vous expliquer mon (ou plutôt notre) positionnement : je ne suis ni Community Manager, ni en agence Social Media.
alban
La saga des métiers de Fauchon
Après avoir installé sa marque et ses codes (notamment sa fameuse bouche rose), Fauchon passe à la deuxième étape avec une saga d'image métiers et produits.
Pop star tops Twitter charts
Vas-y poulette, bats-toi pour ta place J'aime bien discuter de longues heures sur le fait que nous les femmes, on est discriminée.
Personne ne discrimine les femmes au travail… sauf elles-mêmes
Social Media Release: Evolution
When I debuted the Social Media Release back in 2006, moreso than anything else, I intended to stress the concept of a TEMPLATE, i.e., "use what you like about it, change it however you like, discard the parts that don't work for you."
Le bad buzz, est-ce si grave au fond ? Storytelling et contre-story
Citoyens ! Ce matin encore, un pseudo bad buzz contre Burger King France.
redbridgeasia.net | Cross Cultural Communications
Faut-il chercher le consensus pour avoir une bonne e-reputation ?
Cambodge : 12 blogs à lire
cartebig.jpg (Image JPEG, 2134x1600 pixels) - Redimensionnée (51%)
Where is Annabel? …
Books: The Internet Case Study Book
Sandro et la gestion de crise
American Apparel: An American Branding Tragedy
Rise of the European SuperAngel
Nestlé boycott
Inception, Extraction and the Socialization of Business
Tomorrow's media needs to be wired, inspired and for women | Media | The Observer
Influencing the Influencer
N'engagez jamais un expert en réseaux sociaux ! » Article » OWNI, Digital Journalism
Toy Story 3, l'homme est un jouet pour l'homme… » Article » OWNI, Digital Journalism
10 Useful iPhone Keyboard Shortcuts, Tips and Tricks
101 Ways to Save Apple: Ten Years Ago at Wired | Gadget Lab
Facebook Places: A Field Guide
The Red Chair Series: Interview with Thomas Crampton
Web ETU - Université Lyon 2 - À propos de Cairn
unnamed pearl
The Red Chair Series: Interview with John Stauffer
Solidar Suisse tritt Nespresso-Clooney zwischen die Beine
Proust, le dressage du mastodonte, ou, comment apprendre à lire...
Cas pratique Youtube : Perrier et son club très « hot »
Best practice marketing examples, digital innovation & creative media case studies :: Cream – The Innovation Exchange