Steve Jobs
Les hommages à Steve Jobs dans la pub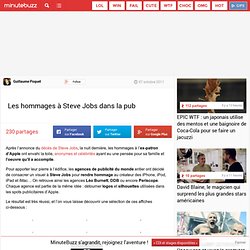 Après l'annonce du décès de Steve Jobs , la nuit dernière, les hommages à l' ex-patron d'Apple ont envahi la toile, anonymes et célébrités ayant eu une pensée pour sa famille et l'oeuvre qu'il a accomplie . Pour apporter leur pierre à l'édifice, les agences de publicité du monde entier ont décidé de consacrer un visuel à Steve Jobs pour rendre hommage au créateur des iPhone , iPod, iPad et iMac… On retrouve ainsi les agences Léo Burnett , DDB ou encore Periscope .
"Tribute to Steve Jobs" cartoon | Tom Fishburne: Marketoonist
L'humour noir fait le Jobs
AllThingsD marks the anniversary of Steve Jobs's death with Walt Mossberg's memories of the man, originally published Oct. 5, 2011.
The Steve Jobs I Knew - Walt Mossberg - Mossblog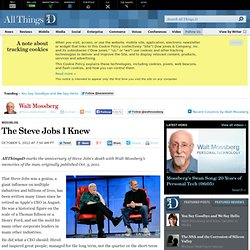 Le vrai-faux tic de langage de Steve Jobs - Blogs EchosVidéos
Les keynotes de Steve Jobs sont désormais célèbres, un rendez-vous incontournable à chaque fois qu'Apple a un nouveau produit, en général décoiffant, à présenter.