Playlist - Oct 2011
Joakim - Forever Young (Official Video) Metronomy - On the motorway - by JUL & MAT. Music Video: Beyoncé - Party featuring J. Cole. Clap Your Hands Say Yeah! - Yankee Go Home. Clap Your Hands Say Yeah - Five Easy Pieces. Metronomy - The Bay. SBTRKT - Golddigger. SBTRKT - Hold On. SBTRKT - "Wildfire" Official Video. Kavinsky - Nightcall (Dustin N'Guyen Remix) Kavinsky - Nightcall (Drive Original Movie Soundtrack) Stormy Weather - Little Dragon. Little Dragon - Ritual Union (music video) Little Dragon - Ritual Union (Glastonbury) Little Dragon 'Ritual Union' (Live on Fallon) Little Dragon - Ritual Union. Selah Sue couronnée par le Prix Constantin. Le Prix Constantin, qui récompense chaque année un jeune talent produit en France, a couronné lundi la soul profonde de Selah Sue.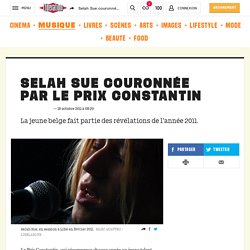 La jeune Belge était en lice pour le prix aux côtés de neuf autres représentants de la nouvelle scène française: Alex Beaupain, Bertrand Belin, Brigitte, Cascadeur, Cyril Mokaiesh, L, Lisa Portelli, Sly Johnson et The Shoes. Le premier album éponyme de cette jeune fille aux yeux de chat bleus et aux cheveux blonds relevés en chignon, a été produit par le label indépendant français Because Music. La frêle jeune fille de 22 ans, qui fait preuve d'une impressionnante présence sur scène, a été adoubée par Prince qui l'a choisie pour assurer la première partie d'un de ses concerts. Ses textes abordent des thèmes très intimes comme la dépression ou la peur d'entrer dans un monde d'adultes. Hank III by Jennifer Tzar. Juan Ravioli - "Desatando Nudos" Alexandre Mardini's Videos. Clip de la Semaine - The Golden Filter, Syndromes. Clip de la Semaine - The Golden Filter, Syndromes Vendredi, 07 Octobre 2011 Le clip de la semaine porte un concept qui ne sauve peut-être pas l'industrie du disque mais préserve pas mal la beauté du geste.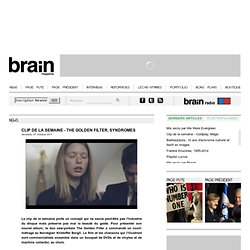 Pour présenter son nouvel album, le duo new-yorkais The Golden Filter a commandé un court-métrage au Norvégien Kristoffer Borgli. Le film et les chansons qui l'illustrent sont commercialisés ensemble dans un bouquet de DVDs et de vinyles et de machins collector, au choix. L'oeuvre dure 11 minutes mais il ne faut pas plus de quatre secondes pour se prendre d'affection pour l'héroïne, une adolescente à l'allure sage et au comportement étrange. Prince chelsea Rodger. Dexter Theme Cover par Adam Ben Erza. Smoove & Turrell - I Need A Change.
---