Old Spice
Old Spice's Latest Guys Smell Better Than Themselves. With the Fabio experiment over, Wieden + Kennedy today breaks a brand-new campaign for Old Spice with the theme, "Smell better than yourself.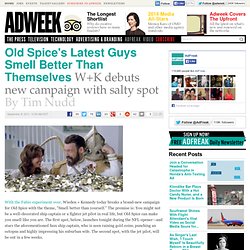 " The premise is: You might not be a well-decorated ship captain or a fighter jet pilot in real life, but Old Spice can make you smell like you are. The first spot, below, launches tonight during the NFL opener—and stars the aforementioned faux ship captain, who is seen raining gold coins, punching an octopus and highly impressing his suburban wife. Old Spice's Latest Guys Smell Better Than Themselves. "Will It Blend?" Meets Old Spice. Old Spice won an Emmy, doubled sales, and launched a film and TV career for its star with Wieden + Kennedy's "The Man Your Man Could Smell Like" marketing campaign.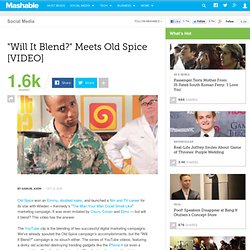 It was even imitated by Cisco, Conan and Elmo — but will it blend? This video has the answer. The YouTube clip is the blending of two successful digital marketing campaigns. We've already spouted the Old Spice campaign's accomplishments, but the "Will It Blend? " Old Spice : les chiffres qui font mal. By Laurent Francois Citoyens !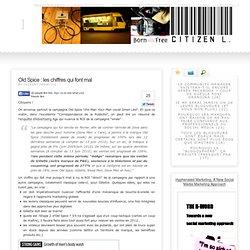 On encense partout la campagne Old Spice "the Man Your Man could Smell Like". Et puis ce matin, dans l'excellente "Correspondance de la Publicité", on peut lire un résumé de l'enquête d'Advertising Age qui nuance le ROI de la campagne "virale" : "La campagne qui fut lancée en février, afin de contrer l'arrivée de Dove dans les gels douche pour homme (Dove Men + Care), a permis à la marque Old Spice (totalement pasée de mode) de progresser de 100% lors des 12 dernières semaines (à compter du 13 juin 2010).