North Korea & Social Media
Things That Made Kim Jong-Il Smile And Frown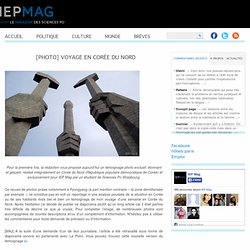 Pour la première fois, la rédaction vous propose aujourd'hui un témoignage photo exclusif, étonnant et glaçant, réalisé intégralement en Corée du Nord (République populaire démocratique de Corée) et exclusivement pour IEP Mag par un étudiant de Sciences Po Strasbourg.
[Photo] Mon voyage en Corée du Nord | IEP Mag
HQ | I'm So Ronery by Kim Jong - Team America: World Police
Welt Kompakt: Missile Attack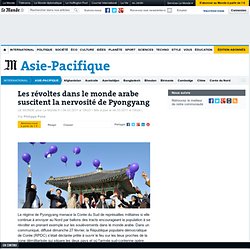 Le Monde | • Mis à jour le | Par Philippe Pons
Les révoltes dans le monde arabe suscitent la nervosité de Pyongyang
Uriminzokkiri Youtube Hack (January 8, 2011)
Korean hackers mount cyber skirmishes in propaganda war | Technology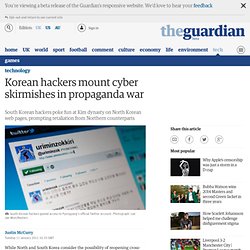 While North and South Korea consider the possibility of reopening cross-border talks, the two countries' hackers are conducting a proxy war in cyberspace. In recent days hackers from the South have poked fun at the Kim dynasty, rulers of North Korea for more than 60 years, and their Northern counterparts retaliated by temporarily disabling a popular South Korean website suspected of being behind the attacks. Pyongyang reportedly warned of "grave consequences" for South Korean hackers found to have tarnished the name of the Kim family. Users of the South's dcinside.com website claimed responsibility for hacking into Pyongyang's official Twitter account, @uriminzok, and its official website, uriminzokkiri.com.
Korean hackers stage social media attacks via Twitter and YouTube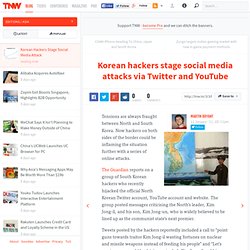 Tensions are always fraught between North and South Korea. Now hackers on both sides of the border could be inflaming the situation further with a series of online attacks.
Carter on way to North Korea to free U.S. prisoner: report
Carter in N.Korea to free U.S. prisoner: reports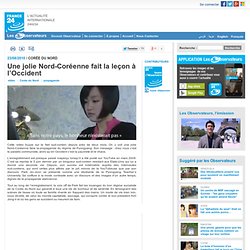 Cette vidéo buzze sur le Net sud-coréen depuis près de deux mois.
Une jolie Nord-Coréenne fait la leçon à l'Occident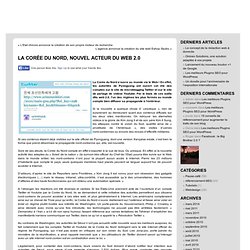 La Corée du Nord s'ouvre au monde via le Web ! En effet, les autorités de Pyongyang ont ouvert cet été des comptes sur le site de microblogging Twitter et sur le site de partage de vidéos Youtube.
La corée du nord sur le web | Création de sites internet
Naenara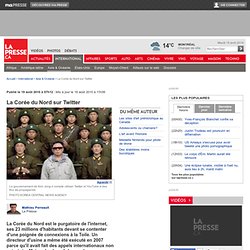 «C'est visiblement destiné à une clientèle externe, aux Sud-Coréens en particulier», explique Marcus Noland, économiste de l'institut Peterson à Washington, qui a publié en 2008 une analyse du secteur nord-coréen des télécommunications. «Ça ne signifie pas que l'internet progresse dans le pays.
La Corée du Nord sur Twitter | Mathieu Perreault | Asie & Océanie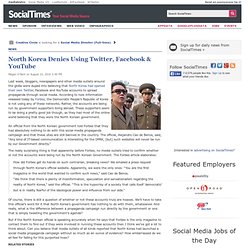 Last week, bloggers, newspapers and other media outlets around the globe were duped into believing that North Korea had opened their own Twitter, Facebook and YouTube accounts to spread propaganda through social media.
North Korea Denies Using Twitter, Facebook & YouTube
South Korea has blocked access to the official North Korea Twitter account, a matter of days after the secretive state started posting messages. North Korea's newest channel of communication has amassed more than 8,500 followers since its first post a week ago, but authorities in South Korea have moved quickly against it. A statement by South Korea's Communication Standards Commission said the account was classified as containing "illegal information" – "contents that praises, promotes and glorifies" North Korea – and is banned under the country's national security law. Han Myung-ho, a commission official, said: "We decided to act immediately, after having considered the unique nature of social networking services like Twitter, where specific information can be dispersed to thousands in a short period of time."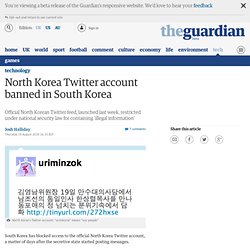 North Korea Twitter account banned in South Korea | Technology
Welcome To Twitter, North Korea
18 August 2010Last updated at 03:14 GMT By Clark Boyd Technology correspondent for PRI's The World
North Korea creates Twitter and YouTube presence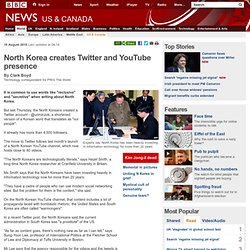 uriminzokkiri (uriminzok) on Twitter