Luxury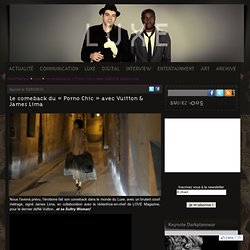 Le comeback du « Porno Chic » avec Vuitton & James Lima
Nous l'avions prévu, l'érotisme fait son comeback dans le monde du Luxe, avec un brulant court métrage, signé James Lima, en collaboration avec la rédactrice-en-chef de LOVE Magazine, pour le dernier défilé Vuitton...et sa Sultry Woman!
LUXURY-BRANDS-INFO-GRAPHIC-Medium.jpg (454×1810)
Annoncer ici Les réseaux sociaux sont vraiment partout, il ne se passe pas une semaine sans que l'on apprenne qu'une maison de luxe crée son réseau social ou investisse un social network existant.
Art of the trench: le réseau social de luxe par Burberry
NEW, NOW BY LOUIS VUITTON PRESENTS »WALKING IN FABRIZIO VITI'S SHOES« on Vimeo
Karl Lagerfeld, logo vivant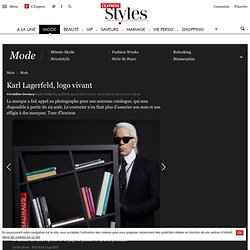 Précédent
CULTURE CHANEL法国设计先锋与艺术大师们的对话|文化香奈儿Espace enfants
CULTURE CHANEL法国设计先锋与艺术大师们的对话|文化香奈儿L'ORIGINE
Loewe rend hommage à son savoir-faire - Vogue
Annoncer ici Après un très beau teasing, Dior nous livre son nouveau site. Premières impressions, en terme de contenu et d'ergonomie de navigation.
Analyse du nouveau site Dior
C'est la retouche qui fâche.
Retouche avant/après : le top modèle porte plainte - Beauté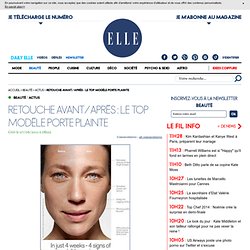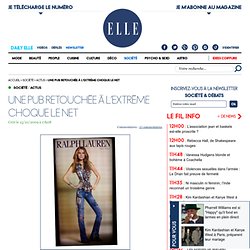 Scandale chez Ralph Lauren. Une pub qui n'aurait jamais du être publiée a été dénichée par le blog « Photoshop Disaster », spécialisé dans la traque des photos retouchées. Le cliché laisse la blogosphère sans voix.
Une pub retouchée à l'extrême choque le net
via Stop It Right Now Game-Changer | AnOther | Reader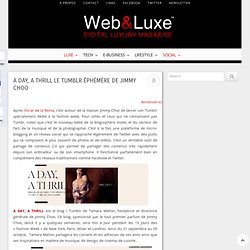 Annoncer ici
A day, a thrill le Tumblr éphémère de Jimmy Choo
A Day A Thrill
Aux premiers rangs des défilés de New York, Londres et Milan, on murmuraient déjà que la maison Yves Saint Laurent s'apprêtait à changer de directeur artistique. À J-1 du début de la fashion week parisienne, la rumeur se fait de plus en plus insistante. Selon une journaliste de l'International Herald Tribune, Stefano Pilati, en poste depuis 2004, pourrait être remplacé par Raf Simons, actuel directeur artistique chez Jil Sander.
La maison Yves Saint Laurent changera-t-elle de directeur artistique ?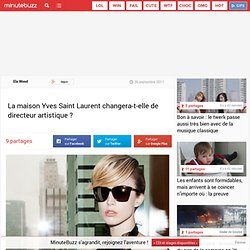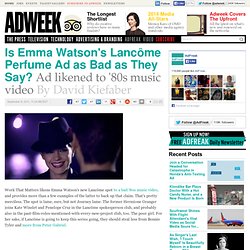 Is Emma Watson's Lancôme Perfume Ad as Bad as They Say?
Work That Matters likens Emma Watson's new Lancôme spot to a bad '80s music video, and provides more than a few examples of the latter to back up that claim.
Chloé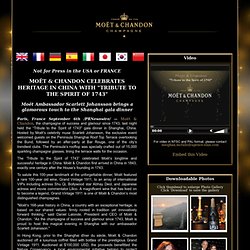 Not for Press in the USA or FRANCE Moët Ambassador Scarlett Johansson brings a glamorous touch to the Shanghai gala dinner Paris, France September 6th /PRNewswire/ — Moët & Chandon, the champagne of success and glamour since 1743, last night held the "Tribute to the Spirit of 1743" gala dinner in Shanghai, China.
MOËT & CHANDON CELEBRATES HERITAGE IN CHINA WITH "TRIBUTE TO THE SPIRIT OF 1743"
Twitter
Barneys New York announces the debut of "Carine's World," the Women's Fall 2011 campaign celebrating Carine Roitfeld and her iconic style.
Today's Exclusive Image from Our "CARINE'S WORLD" Campaign | Barneys New York The Window
Who, What, Why - Prada's Minimal-Baroque Sunglasses
Who? Ivo Bisignano, Marcela Gutierrez, Andrea Tarella and Miuccia Prada. What?
LV SLEEVE TATTOO | AnOther | Reader
Christian Dior : Miss Dior : Le mariage
Christian Dior : Miss Dior Chérie : Moi Je Joue
Valentino for Gap: combining luxury with basics
High-end style at high street prices - Sophie de Rosée embraces the progeny of fashion's most exciting couple. BY Sophie de Rosee | 20 November 2010
Manolo Blahnik Book Signing | Liberty Blog Website
www.chanel-confidential.com, la nouvelle plateforme digitale de la maison Chanel
Lanvin Fall 2011 Campaign
Hits and Misses of the New YSL Website