LOGOS!
55 logos et leurs histoires surprenantes. Pour une fois, l'article du jour va se focaliser sur une autre facette de la publicité, essence même de la marque : le logo.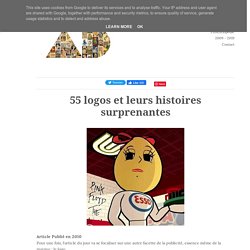 Toute marque à un logo, sans exception, des marques comme American Apparel ont voulu joué la carte du "Je n'ai pas de logo, je suis libre comme l'air" mais le nom est devenu logo même si il n'est pas présent sur les vêtements. Soit dit en passant, la marque va sûrement disparaitre même si cette dernière tente de survivre dans un contexte économique difficile Le logo est donc ce qu'on pourrait appeler la véritable représentation graphique de la marque. 50 exemples de logos frais et colorés. Rédigé par :: Grégory Catégorie :: Inspiration,Logotype Pour l'inspiration, voici une sélection haute en couleur d'idées de logo acidulés et colorés.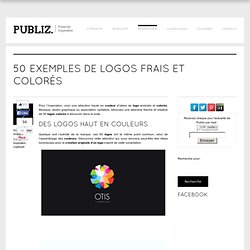 Musique, studio graphique ou association caritative, retrouvez une sélective fraiche et créative de 50 logos colorés à découvrir dans la suite. Quelque soit l'activité de la marque, ces 50 logos ont le même point commun, celui de l'assemblage des couleurs. Découvrez cette sélection qui vous donnera peut-être des idées lumineuses pour la création originale d'un logo inspiré de cette compilation. Peugeot Expert: Gominola.
New York Man Sues Gap Over Lower East Side Logo. The Gap Inc. has unwittingly stepped right in the middle of a Lower East Side turf war.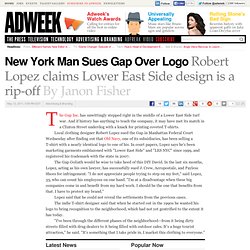 And if history has anything to teach the company, it may have met its match in a Clinton Street underdog with a knack for printing coveted T-shirts. Local clothing designer Robert Lopez sued the Gap in Manhattan Federal Court Wednesday after finding out that Old Navy, one of its subsidiaries, has been selling a T-shirt with a nearly identical logo to one of his. In court papers, Lopez says he's been marketing garments emblazoned with "Lower East Side" and "LES NYC" since 1999, and registered his trademark with the state in 2007.
The Gap Goliath would be wise to take heed of this DIY David. In the last six months, Lopez, acting as his own lawyer, has successfully sued J. Honest logos on the Behance Network. Starbucks a officiellement de logo. Le voici sur les packaging. Le logo des JO de Londres fâche l'Iran. Guide des logos. BE DANDY L'actualité des identités visuelles. Totally Naked: THE FUTURE OF THE STARBUCKS LOGO. Logo Design History - Famous Logos Y. This global Japanese company manufactures and sells a range of products including motorcycles, boats and boat engines, snow mobile and golf karts, and music instruments and audio equipment, as well as robots and computers.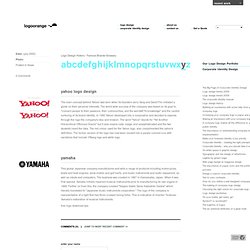 The business was created in 1887 in Hamamatsu, Japan. When it was first opened, Yamaha initially repaired musical instruments prior to manufacturing its own organs in 1889. 50 exemples de logos créatifs « Publiz | Blog des médias marketing et publicité créative. Marketing alternatif et pub print par Grégory Cassiau.