Hacked Twitter
Le piratage de Twitter : un bon coup de pub pour Nivea - Infos - Vidéos
NIVEAFrance: Merci à tous, on en rougir
NIVEAFrance: Contre les bandes noires d
NIVEAFrance (NIVEAFr) on Twitter
Sarah Brown: don't touch the earlier tw
Sarah Brown (SarahBrownUK) on Twitter
Twitter patches JavaScript hack | Security Management
Twitter 'onmouseover' security flaw widely exploited | Graham Cluley's blog
Among the many Twitter pages found to be spreading a worm this morning was the Whitehouse.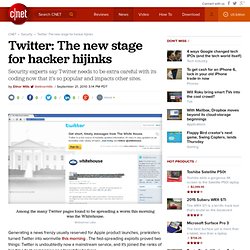 Twitter: The new stage for hacker hijinks | InSecurity Complex
Twitter holes exploited by worms | Security Threats
Thousands of Twitter users and their followers became victim of hacker's attack on the site.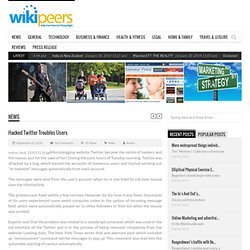 Hacked Twitter Troubles Users
Is Twitter the New Playground for Hackers?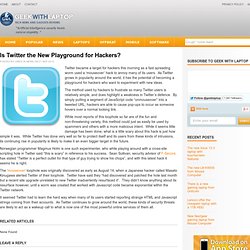 Twitter became a target for hackers this morning as a fast spreading worm used a 'mouseover' hack to annoy many of its users. As Twitter grows in popularity around the world, it has the potential of becoming a playground for hackers who want to experiment with new ideas.