Hacked Twitter
Le piratage de Twitter : un bon coup de pub pour Nivea - Infos - Vidéos
Language: English Bahasa Indonesia Bahasa Melayu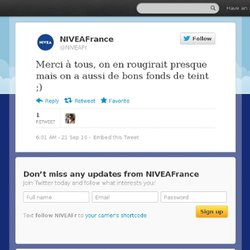 NIVEAFrance: Merci à tous, on en rougir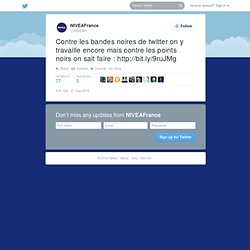 Language: English Bahasa Indonesia Bahasa Melayu Dansk Deutsch Español
NIVEAFrance: Contre les bandes noires d
NIVEAFrance (NIVEAFr) on Twitter
Sarah Brown: don't touch the earlier tw
Sarah Brown (SarahBrownUK) on Twitter
Twitter patches JavaScript hack | Security Management
Twitter 'onmouseover' security flaw widely exploited | Graham Cluley's blog
Generating a news frenzy usually reserved for Apple product launches, pranksters turned Twitter into wormville this morning . The fast-spreading exploits proved two things: Twitter is undoubtedly now a mainstream service, and it's joined the ranks of big-time tech companies as a target for hackers. Security experts interviewed by CNET say the messaging service has done a fair job of protecting itself so far, but will have to be more careful with its coding if it wants to be trusted for news aggregation, integration on corporate sites, and as a useful international communication tool. "They're just as much in the crosshairs as Microsoft, Adobe, and Facebook," said Beth Jones, a senior threat researcher at Sophos. Twitter doesn't necessarily have more holes than other sites, but the ones it has seem to be targeted at a high frequency by hackers interested in experimenting with new attacks and testing how far and fast dubious software can spread over the popular social network.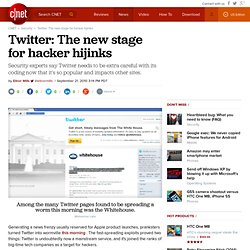 Twitter: The new stage for hacker hijinks | InSecurity Complex
Hacked Twitter Troubles Users Microblogging website, Twitter, became the victim of hackers and the reason, just for the sake of fun! During the early hours of Tuesday morning, Twitter was attacked by a bug, which hacked the accounts of numerous users and started sending out "re-tweeted" messages automatically from one's account.
Hacked Twitter Troubles Users
Is Twitter the New Playground for Hackers?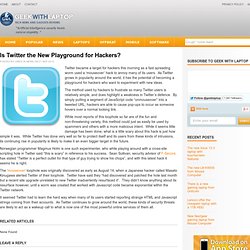 Twitter became a target for hackers this morning as a fast spreading worm used a 'mouseover' hack to annoy many of its users. As Twitter grows in popularity around the world, it has the potential of becoming a playground for hackers who want to experiment with new ideas. The method used by hackers to frustrate so many Twitter users is relatively simple, and does highlight a weakness in Twitter's defence. By simply putting a segment of JavaScript code "onmouseover" into a tweeted URL, hackers are able to cause pop-ups to occur as someone hovers over a normal looking link. While most reports of this loophole so far are of the fun and non-threatening variety, this method could just as easily be used by spammers and others with a more malicious intent. While it seems little damage has been done, what is a little scary about this hack is just how simple it was.