Cute cute cute
Details. Peindre avec la gravité. Le Tableau Bande-annonce. Is it Christmas?
Cute - nice images. Animally cute. Cute In Fashion. Cute from Korea (and near) HELLO SUNSHINE. TheUglyDance.com - Turn yourself into an ugly dancer. S December 2010 Trend Briefing covering 11 CRUCIAL CONSUMER TRENDS FOR 2011. The INTERNET OF CARING THINGS means connected objects that serve consumers' most important needs: physical and mental wellbeing, safety, security, oversight of loved ones, and more.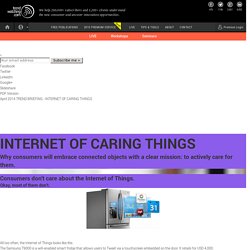 You're probably already familiar with the innovations that have blazed an early CARING trail. The Nest smart thermostat*, NIKE fuelband and Fitbit, for example. But now, as consumer demand and technological capacity converge, the INTERNET OF CARING THINGS will evolve in exciting new directions. Multiple 360 Degree Experience. 15 Genius Marketing Moments From Mad Men | ProspectMX. AMC's Mad Men has been rocking the airwaves for more than three years.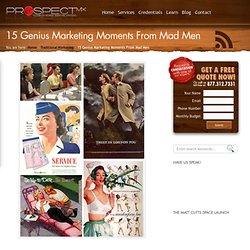 The show, which follows the exploits of Madison Avenue's Sterling Cooper advertising agency in the first part of 1960's, has just entered its fourth season and is still just as fresh and stirring as it was in its first. Critics have applauded the show for making excellent use of marketing tactics, some real and some fictional. Here we have collected fifteen of the most genius tactics aired to date. Image Source. How To Become A Blogger- Guide Become a Fashion Blogger. Great taste, a solid camera, a little charm, and some handy html know-how...yes, it takes way more than just that to become a style blogger.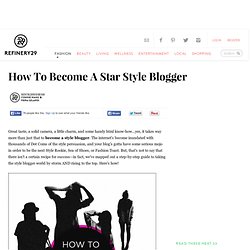 The internet's become inundated with thousands of Dot Coms of the style persuasion, and your blog's gotta have some serious mojo in order to be the next Style Rookie, Sea of Shoes, or Fashion Toast. But, that's not to say that there isn't a certain recipe for success—in fact, we've mapped out a step-by-step guide to taking the style blogger world by storm AND rising to the top. Here's how! See our guide to getting shot by the Sartorialist...See our guide to becoming an It Girl...See our guide to getting shot by The Selby...
Designed by Joshua Covarrubias.
---