Design
CURRENT_REFERENCES. Jens Dyvik | Concept, Interaction & Product Design. Tomorrow's Thoughts Today. About. Afterall is a research and publishing organisation based in London.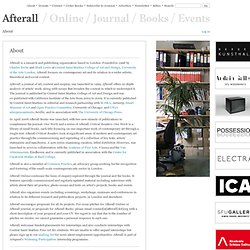 Founded in 1998 by Charles Esche and Mark Lewis at Central Saint Martins College of Art and Design, University of the Arts London, Afterall focuses on contemporary art and its relation to a wider artistic, theoretical and social context. Afterall, a journal of art, context and enquiry, was launched in 1999. Afterall offers in-depth analysis of artists' work, along with essays that broaden the context in which to understand it. The journal is published by Central Saint Martins College of Art and Design and was co-published with California Institute of the Arts from 2002 to 2009. It is currently published by Central Saint Martins in editorial and research partnership with M HKA, Antwerp; Smart Museum of Art and Open Practice Committee, University of Chicago; and UNIA arteypensamiento, Seville; and in association with The University of Chicago Press.
EveryAware | Enhance Environmental Awareness through Social Information Technologies.
Platform
Student_work. Non_profits or education. Individuals_studios_companies. Core77 Design Directory - Where Business Finds Design. Well_designed.
---